Customer Feedback
Ealing, West London
We were grateful to receive this feedback from Mrs Norton who laid our Engineered Walnut flooring in her 1930 Tudor mock semi-dethatched house in Ealing, London.
Hi Tom,
Apologies for taking so long to send these, but the building work didn't finish until end of November.
The floor looks amazing though and we are extremely happy with it. Everyone comments on the engineered wood floor when they come into the house in London.
And thank you so much for recommending Treatex. The treatment really brings out the tones in the wood and it's so easy to sand away any scratches.
We managed to flood the floor in the utility room 2 days after the floor was put down. I was completely distraught. The floor was completely flooded and there was little hope that it would be salvaged. However, a day later the floor was not warping so we hired a dehumidifier and kept it on for a whole week. The utility room looks fantastic and has no sign of being flooded. My builder was also very impressed! This is down to the great quality of the floor! My husband and I are really pleased we decided to purchase this floor. We will definitely be recommending it to others.
These are all the good photos I have. Let me know if this is enough.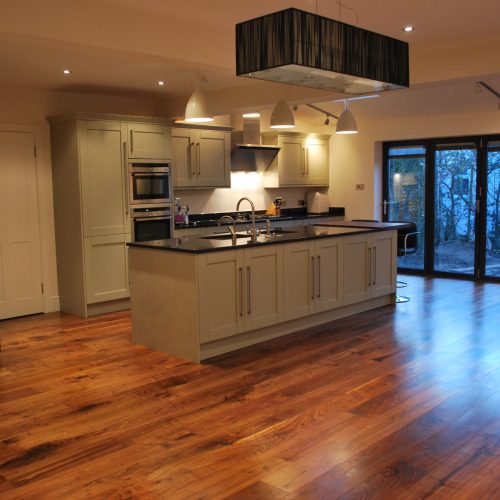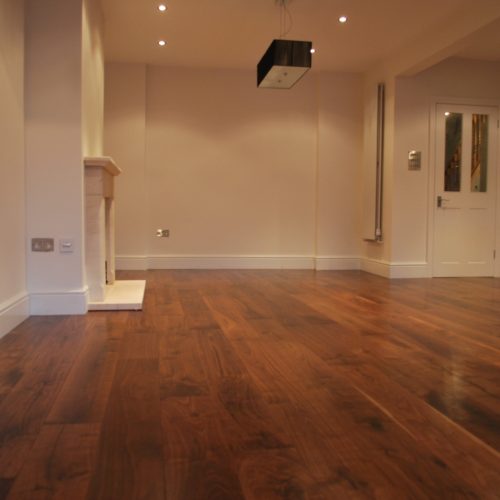 Some info on the property:
We bought the house 2 years ago. It's a 3 bedroom semi-detached, with 2 rooms and a kitchen on the ground floor.
We did a back extension and removed the wall between the kitchen and back living room, making it a big family room. We also built a side extension for the utility room and re-decorated the whole rest of the ground floor (re plastered, new electrics, new toilet, new windows, new floor).
The house is from the 1930s, Tudor mock semi detached, with a west facing garden in Ealing, West London.
We decided not to go with under floor heating as we didn't think it would work as supposed to, in such an old house. We also wanted to have wood flooring throughout. I really didn't want tiles in the kitchen area and wood everything else.
We didn't decide on walnut until we got your sample. We were convinced we were going to go with a good oak floor and then colour it a bit darker. We started comparing various samples of oak and then got a few walnuts. The walnut just looked so outstanding that it was difficult to go back to oak.
It really was a big investment, the cost was a lot higher than what we had initially forecasted for; but the final result is 100 times better than expected!
Merry Christmas!
Mrs Norton (Ealing, West London).