Like many things, ranges of engineered wood flooring can vary substantially in both price and quality, so how do you decide which specification is right for you? To help, we've put together a guide looking at the benefits of engineered wood flooring, if you have any further questions then please do get in touch and we'll be more than happy to discuss your queries.
What is Engineered Wood Flooring?
Higher specifications of engineered wooden floor boards, such as the ranges stocked here at JFJ, are constructed of multiple layers of laminated hardwood arranged in a tight cross-layer structure making up what is known as a ply-wood. The cross-layered base is topped with a thick layer of hardwood known as the 'Wear Layer' which can be treated with varnishes, colour treatments and oils to achieve the desired finish. Here at JFJ, we stock a range of quality oak and walnut engineered boards in a variety of specifications to suit varied properties and budget
Add Value to your Property
Engineered wood flooring is a great long-term investment for adding value to your property. Due to its durability, resilience against damage, and elegant aesthetic, properties that are fitted with real wood flooring are valued at higher prices on the housing market than comparable properties with carpet or laminate. Potential buyers will be lured in by the elegant charm, long life span, and of course being real wood, the option to sand back the wear layer for refinishing.
Why choose Engineered Flooring over Laminate?
No matter how hard manufacturers of laminate try, the timeless beauty of every individual real wood floorboard cannot be emulated with a laminate image. Real wood has unique grain and genuine texture that add character to both traditional and modern properties.
On top of the matter of appearance, engineered wood flooring has the added advantage of being able to be sanded and re-treated. Boards with a thick wear layer can be sanded back several times for refinishing allowing you to replenish the floor back to looking like new as well as change the colour if desired. This is also relevant to the life expectancy of the floor – more on this below.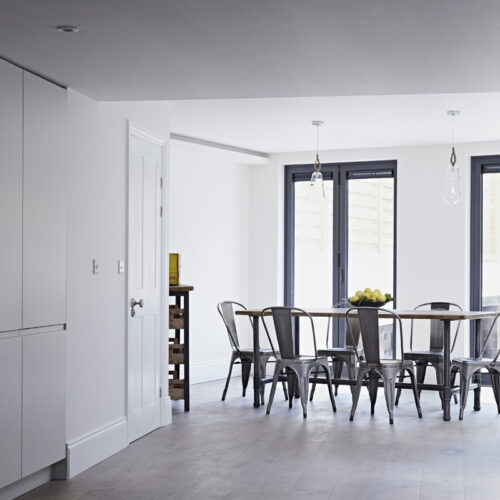 Perfect for busy areas and family homes
Let's face it, accidents happen. We'll never stop kids from spilling juice, wine glasses from falling off of the sofa, or muddy footprints being trampled in to the house – but we can reduce the worry and increase the ease of dealing with such occurrences. Unlike carpet, everyday stains and spillages can be quickly cleaned off of a well-treated wooden floor with a mop or brush. Animal hair is also much less of a hassle to remove as it can be effortlessly swept up or sucked up the vacuum. In order to enhance your wood's natural resistance to wear, we supply and advise on protective products such as Treatex Hardwax Oil – a protective treatment that adds a stain resistant, waterproof coating to the timber and also enhances appearance.
Lifespan
Depending on the thickness and type of wood that you choose, engineered oak boards can last over 100 years if cared for properly. In comparison, most laminate comes with a guarantee of 10 years, and the lifespan of an average carpet is a similar time period. This makes engineered real wood flooring an incredibly cost effective long term solution for your property as you'll probably never have to replace it!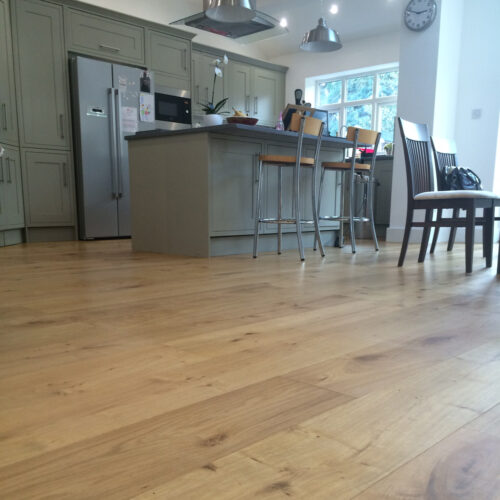 Easily fitted and suitable for a range of environments
Our engineered wood boards have a simple tongue and groove design that allows for easy fitting over your existing or new sub-floor.
Should you need it, we stock Elastilon underlay which is used for fitting boards onto solid surfaces without the need for nails, screws, glue or clips.
If desired, underfloor heating systems can be installed underneath the boards as an efficient way to heat large parts of your home.
Another advantage of engineered wood flooring over solid wood is it's stability. A high quality engineered board has a dense multi-layered core and far less prone to expansion and contraction to that of solid. This makes an engineered wood floorboard a far more practical floor for areas of the home which may be more susceptible to changes in temperature and humidity such as kitchens or bathrooms.
Timeless beauty for both traditional and contemporary properties
From grand country houses to fresh modern homes, you cannot mistake the unique character and prestige that wooden flooring brings to a property. Whether you're looking for a practical long term solution for a light commercial area, or simply for an aesthetic enhancement to your home, engineered wood flooring is a long lasting, cost effective investment that comes with a guarantee of elegance and stylish practicality.
Conclusion
All flooring types have their own pros and cons, however there is no question that an engineered wooden floor can be both one of the most attractive and practical flooring choices. It's important that the engineered planks are constructed to a high quality and the finish / treatment on the boards is suitable for the intended environment. If you're considering engineered wood flooring for your project and would like to discuss the different flooring options and which would work best for you, do not hesitate to get in touch. We're a family run business and would be happy to help.