introduction
Best Flooring for rental property
Choosing the best flooring for your rental property is important for maximizing tenant satisfaction, long term costs to landlord / landlady, and return on investment. In this article we will cover points such as the importance of flooring in rental properties, assess your property's requirements, discuss popular flooring choices, and evaluate the pros and cons of these different options. We hope that by the end you will have a greater understanding of how to choose the most appropriate flooring for your rental property and your specific requirements.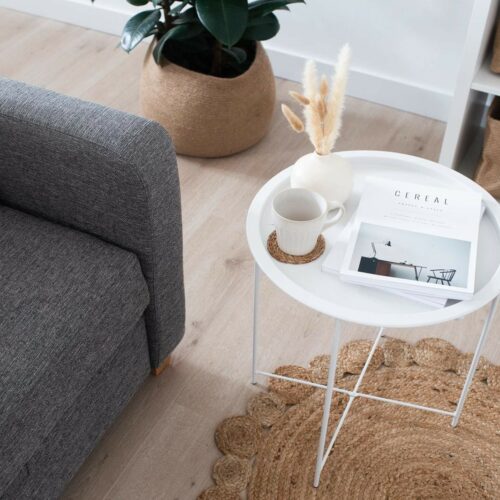 Understanding the Importance of Flooring in Rental Properties
Tenant satisfaction and durability
Tenant satisfaction is important for landlords / landladies. Renters want a comfortable, practical, and visually appealing living space. Flooring plays a significant role in achieving this goal, as it directly impacts the tenants' daily experience. Durable flooring is more likely to endure heavy foot traffic, furniture movement, and accidents without showing as many signs of wear and tear, ensuring a long-lasting and pleasant environment for your tenants.
One way to ensure tenant satisfaction is by choosing flooring that is suitable for the specific rental property / rooms within that property. For example, if the property does not have underfloor heating, you may want to consider the warmth of wood or carpet.  Likewise if the flooring is to be laid in the kitchen or bathroom of your property then considering stain / water resistance is important. These considerations can go a long way in ensuring tenant satisfaction and reducing the need for frequent repairs or replacements.
It is also important to take into account any specific needs of your future tenants, such as allergy concerns. Hard floors are much better for allergy sufferers than carpets, which tends to collect allergens.
Maintenance and cleaning
Easy maintenance and cleaning are essential for both landlords and tenants in rental properties. As a landlord / landlady, you want to minimise the time spent on maintenance, as well as the overall costs related with repairing or replacing damaged flooring. Likewise, tenants appreciate flooring that is easy to clean and care for, making their rental experience more stress free.
One way to ensure easy maintenance and cleaning is by choosing flooring that is resistant to spills and stains. Hardwood floors can be a very practical and high quality flooring solution however not all hardwood floors are resistant to spills and stains. The finish that is applied to the timber is what will make the planks water resistant to spills and it's important that you consider this when considering hardwood flooring. If you like the look of wood, but want something more forgiving then luxury vinyl tile (LVT) flooring can be a more durable option (more on this below).
Aesthetics and property value
The right flooring can significantly impact the overall aesthetics and property value of your rental household. Flooring affects the perceived size, brightness, and warmth of the space, making it crucial to choose a suitable option that complements the other design elements. In addition, high quality flooring can increase the desirability of your property, potentially allowing you to charge higher rental rates and attract a larger range of prospective tenants.
When choosing flooring for your rental property, consider the style and design of the space. If your rental property is higher end with a contemporary interior, you may want to choose flooring with a clean and simple design, such as a hardwood flooring with a matt finish or a lighter coloured LVT floor. Alternatively, if your rental property has a more traditional design, you may want to choose flooring with a classic and timeless look, such as herringbone hardwood flooring, long and wide engineered wood boards or slate.
Ultimately, choosing the right flooring for your rental property can make a significant difference in tenant satisfaction, maintenance and cleaning, and property value. By taking the time to consider the specific needs and design of your rental property, you can choose flooring that meets all of these criteria and provides a long-lasting and enjoyable living space for your tenants as well as stress free solution for you as the property owner.
Assessing Your Rental Property's Needs
Climate and location considerations
When selecting the appropriate flooring for your rental property, take into consideration the rooms climate and location. The flooring material may need to be able to withstand temperature fluctuations, humidity levels, and potential water damage. The warmth, charm, character and practicality of hardwood floors make it a popular choice however wood is porous and can absorb moisture causing it to expand and contract. If wood is your chosen material then it's highly recommended that an engineered wood flooring is used, rather than solid. High quality engineered wood flooring, such as those we supply here at JFJ Wood Flooring, are based on a multi-laminate plywood. This cross layer construction gives the boards vastly higher levels of stability and reliability making it a much more sensible choice. Also, the timber that is used on the top surface is exactly the same timber that would be used on solid and therefore will look and feel exactly the same.
Type of rental property
The type of rental property, whether it's a potential family home, apartment building, or holiday let, will also influence your flooring decisions. Different property types may have different requirements in terms of durability, comfort, and design.
Budget and return on investment
Lastly, consider your budget and the potential return on investment when considering what flooring to choose for your rental property. While more expensive flooring may offer higher tenant satisfaction and property value, it may not yield the highest possible ROI. It's important to try and find the right balance between affordability, durability, and aesthetic appeal when choosing the best floor for your requirements.
Popular Flooring Options for Rental Properties
Hardwood flooring
Hardwood flooring is a classic and elegant choice for rental properties. It offers a timeless, versatile look that can suit various design styles and preferences. Known for its practicality and warmth, hardwood flooring can increase property value and attract a broad range of tenants. Here at JFJ Wood Flooring we are wood flooring specialist and have a tonne of related articles to engineered wood flooring. In the interest of your time we will, on this article, not go into detail on all the details however will cover just a few key points.
As mentioned earlier the treatment of the hardwood is imperative to achieve a practical floor.
Hardwood floors can be a warmer choice, especially if you do not have underfloor heating, whilst still being practical (unlike carpets)
A vast choice of colours and styles
The only choice where you have the option to sand and refinish the flooring, bringing it back to 'like new'.
Laminate flooring
Laminate flooring can be an affordable alternative to hardwood flooring. It is commonly composed of a fibre board core with a high-resolution printed image of wood or stone, coated in a protective layer. Laminate flooring is known for its relatively easy installation and maintenance and is available in a wide range of colour choices. Generally considered one of the more "cheap and cheerful" options.
LVT flooring
LVT flooring is a very popular option for rental properties due to its water resistance, ease of installation, durability, cost, and low maintenance requirements. LVT floors comes in various different styles and are one of the best choices for closely mimicking the appearance of hardwood or tile flooring at a much lower cost. A good quality LVT floor also has a very long life span – our range of LVT is expected to last at least 30 years in a domestic setting.
Natural Stone / Tile flooring
Natural Stone or Tile flooring is an excellent choice for rental properties in regions with warm climates or high moisture levels but here in the UK they can feel very cold underfoot. If your property does not have underfloor heating then this should definitely be taken into account. These floors are water-resistant, durable, and low-maintenance which make them a practical choice and they're also available in various colours, designs and patterns.
Carpet
There is no question that carpet can be one of the most warm and cosy flooring choices. This soft flooring option provides warmth and insulation, making it a popular choice for bedrooms and living areas. However, despite it's cosiness, carpets are one of the least practical flooring choices for a rental property due to their susceptibility to staining and wear and tear. If you feel that carpet would suit your property then perhaps consider limiting the use to rooms which are less prone to spillages and dirty shoes.
Pros and Cons of Each Flooring Option
Hardwood flooring
Pros: Classic and timeless look or modern and contemporary look, warm underfoot, engineered wood is suitable for underfloor heating, durable, increases property value, option to refinish, adds value to property.
Cons: More expensive than some of the other choices, less durable than some of the other options.
Laminate flooring
Pros: Affordable, easy installation, low-maintenance, wide range of colours and styles.
Cons: Not as durable as LVT, "cheap and cheerful", doesn't add value to property, cannot be refinished, sensitive to moisture, lasts the least amount of time compared to other hard flooring options and would need replacing more regularly.
LVT flooring
Pros: Waterproof, affordable, durable, low-maintenance, easy installation, various styles available, realistic, much longer lasting than laminate.
Cons: Can be less environmentally friendly, may look cheaper than hardwood or tile.
Natural Stone / Tile flooring
Pros: Water resistant, low maintenance, durable, suitable for high-moisture areas.
Cons: Can be cold and hard underfoot, installation can be time-consuming and costly, susceptible to cracking.
Carpet
Pros: Comfortable, provides warmth and insulation, noise reduction.
Cons: Stains and wears much more easily, may need replacing more regularly, bad for allergy sufferers.
best flooring for rental property
conclusion & what we recommend
In conclusion, the best flooring option for your rental property largely depends on your unique circumstances, including location, property type, budget, and desired aesthetic. By considering the importance of flooring, assessing your rental property's needs, and evaluating popular flooring options and their pros and cons, you can make an informed decision that enhances your rental property and maximizes tenant satisfaction.
What we recommend….
Well, wood dates back in our family to 1853 – so you argue we're biased! We love the warmth, elegance and charm that a timber floor can offer. This being said we feel strongly that it's imperative that a wooden floor is treated with a finish that'll protect it in a rental property. If you love wood as much as we do then we would suggest you consider an untreated engineered oak floor. Oak is a stunning and durable timber and purchasing the planks untreated allows you to choose a board which suits your property in terms of dimensions, style, character and texture and then apply a finish on site which will make it a practical, durable and stain resistant floor. Oak is also a paler timber, meaning it can be stained many different colours to suit a wide variety different designs. It's also the warmest material to use, especially if you do not have underfloor heating.
If you like the appearance of wood, but are looking for something more affordable with very high levels of durability and practicality, then consider one of our LVT Floors / Durable Wood Flooring Alternatives. Our range includes many different colours and although it's impossible to perfectly replicate a natural product, they do an amazingly good job of it! Our range of Durable Wood Flooring Alternatives & LVT can be found on our website here.