Textured finishes, such as brushed, brushed and oiled, bandsawn and hand scrapped wood flooring, have become popular in recent years due to their authentic appearance and tactile feel. However, there is more to think about than looks alone and in this article we will cover the pros and cons worth considering.
So let's start by explaining what brushed / brushed and oiled wood flooring actually means and then take a look at the advantages and disadvantages of  these types of flooring.
When a wooden floor is brushed it gives a textured finish to the surface of the timber and the depth of the texture can vary from a light to heavy brushing. Light meaning that there is just a small amount of texture and heavy meaning that the texture is deeper and more apparent. A bushed finish is produced by having a wire rotary brush go over the surface of the board, this removes the softer grains and leaves the upper surface with a textured finish.
Advantages of Brushed Engineered Oak Flooring
Some people are very fond of this authentic, distressed and rustic look as it adds character to the floor and potentially give your home more of a traditional appearance. Many people are also put off by the plastic, shiny feel to some lacquered finishes and see brushed an oiled as a way of avoiding this. However you don't have to go for a brushed finish to avoid a shiny looking floor – a finely sanded board treated with a matt oil will certainly look authentic, just without the textured finish.
It can be said that because a brushed floor has texture, scratches and damage to the floor can be less apparent as they blend in more to the already rugged surface.
Having a board with a little more of a textured finish can also add to grip on the surface. However, generally speaking, how slippery a floor can be is determined by the product that it is treated with. For example, Treatex Hardwax oil is R10 slip resistance certified and slip resistant certified for commercial use: DIN-51130, DIN-51131, EN-13893 yet can give an smooth even finish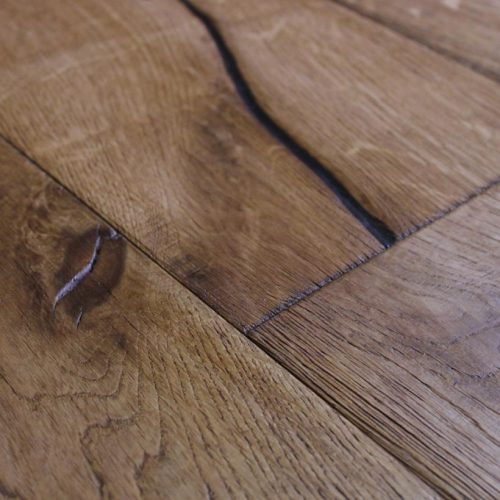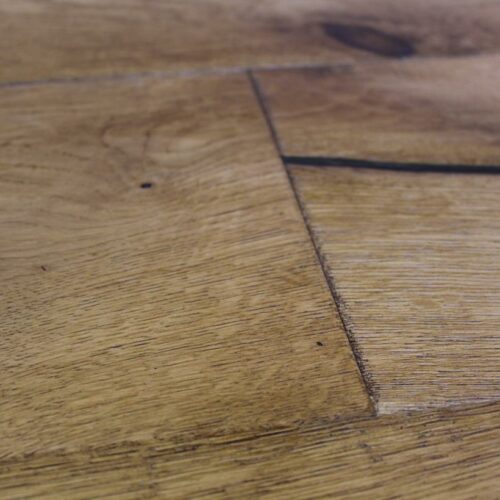 Disadvantages of Brushed Engineered Oak Flooring
Despite trying to achieve a look of authenticity, these finishes are 'man made' and some people can consider them less natural looking – we have also seen some very odd looking textured boards over the years of being in this industry. Keep in mind that a small sample of a natural products, such as timber, can only ever be used as a guide. It can be even more difficult to judge a floor based on a small sample if the board is supplied with a more unique finish. If you're unsure we would always recommend you see a large section of the timber or view genuine pictures of the boards before committing to your order as some brushed / hand scraped boards can be quite inconsistent with the level of texture and small samples are not always the best at accurately demonstrating the overall look and feel of the floor.
Another factor to consider with a brushed engineered floor is, as with anything with texture, it will collect the dust and dirt more. How relevant this is to you is of course dependant on where you intent to use the flooring. In a lounge or bedroom this perhaps is not quite so important but in a kitchen or high traffic room you come in from outdoors into, it could be more so.
Looking for a textured brushed engineered oak flooring?
If you're looking for a brushed engineered oak floor do be sure to take a look at our 'Lundy' range which can be found on our engineered oak flooring page. The most popular board within this range is the Lundy 190mm x 20mm Engineered Oak.
If this article has been helpful, yet you still have some unanswered questions before making a decision then please do not hesitate in contacting us. As a family business we are always more than happy to help. Email us at info@jfjwoodflooring.co.uk or give us a call on 01598 740197.