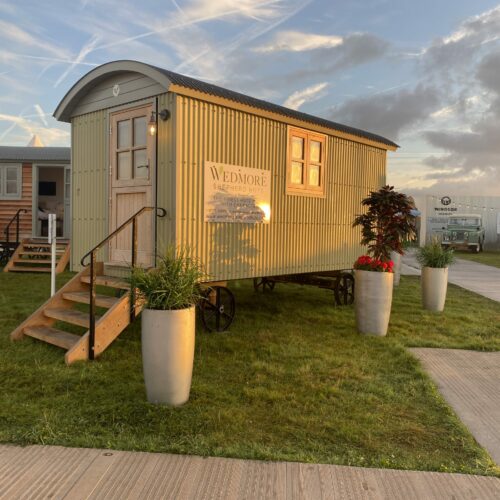 Our Supreme 220mm x 21mm Engineered Oak Flooring has been used in these unique and custom-made Shepherd Huts. Wedmore Shepherd Huts have been running for over 30 years now and have vast experience in the construction industry, allowing them to produce these superb huts.
Their huts can be made to incorporate individual features and ideas as well as being able to use different timbers and materials on request. Every one of their huts are handmade and offer a great space for a home office, beautiful accommodation or even a relaxing retreat outside the home.
Wedmore, situated in the heart of Somerset in the South West of England, is where these unique huts are made. The huts come in a range of shapes, sizes and colours – with complete customisation available. They even have the option to include underfloor heating (which our flooring is suitable with) log burners and televisions to create a state-of-the-art unit.
It's great to see our Supreme 220mm x 21mm Engineered Oak Flooring used in such a variety of properties. From modern new builds, to old barn conversions and now to these cosy huts.
Wedmore Shepherds Huts chose the Supreme 220mm for a number of reasons, the most obvious being the natural beauty and elegance of the European Oak boards and how well it suits these characteristics units. The boards are also made up of a 6mm solid oak wear layer and hardwood multi-laminate plywood core – resulting in a floor that will last just as long as a solid oak floor, yet provide far more reliability in terms of stability and movement.
The flooring in these huts was finished with Clear Matt Treatex Hardwax Oil which offers an impressive natural looking matt finish as well as provide durability, ease of maintenance and stain / water resistance. Thus, the Clear Matt Treatex finish paired with the natural characteristics of the Supreme 220mm, in our opinion, is a match made in heaven. This pairing is extremely popular with our customers who are looking for natural beauty, traditionality and a long-lasting durable floor.
If you're interested in our Supreme 220mm x 21mm, or any other board you see featured on our website please do not hesitate to get in touch either by email on info@jfjwoodflooring.co.uk or phone 01598 740 197.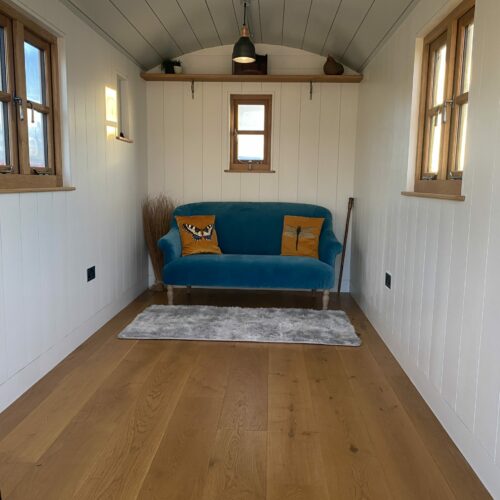 Looking for wood flooring for shepherds huts?
If you're looking for wood flooring for shepherds huts feel free to contact us today to discuss your requirements. We're a small family run business that would be happy to discuss your projects and the different flooring options we can offer.