The Ethos
As a company we send thousands of samples every year, and for good reason. Getting to grips with samples not only allows customers to get an idea as to the quality of our products but also offers opportunity for comparison between different products from us at JFJ and those of our competitors. With years of experience in the field, we understand the spectrum of quality and subpar products that occupy the market, making it increasingly difficult for customers discern quality from pictures and testimony alone. Our sample service aims to give clients the opportunity to see the quality of the board for themselves and compare the construction and build quality against others. Using first class mail, customers are able to have samples in their hands within two working days of a sample request.
The Challenge
The initial process of choosing a sample can very often be overwhelming and we consistently encourage customers to reach out to us to help narrow-down options in order to utilise this sample service to its full potential. A short phone call or email can often be enough to eliminate certain options from the equation, methodically walking you through the process of choosing a suitable product for your needs. With the understanding that not everyone has the time for this, we have comprised a list of three questions that, once answered, can give you a nudge in the right direction.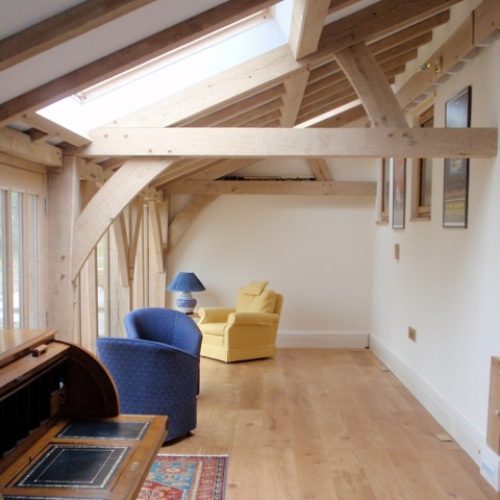 Q1: Do I Want Engineered Oak or a Durable Wood Alternative?
We speak to a variety of people on a daily basis. Ranging from couples, choosing flooring for their 'forever home', to small business owners looking for a classy and hardwearing upgrade to the flooring in their office space. Personal preference, aesthetic and overall appearance has always a consistent underlying theme among our customers, however, these examples have been chosen to illustrate a decision process strongly influenced by the concept of 'traffic'.
'High traffic' areas within a property are areas in which a floor may be exposed to the most wear and tear. Typical examples of these areas include office spaces, entrance halls, kitchens etc all of which experience high foot traffic and an increased likelihood of spills, stains and scratches. Although treating and maintaining an Engineered Oak floor is now easier than ever, many customers opt for a Luxury Vinyl Tile (LVT) to provide ultimate peace of mind against these inevitable scenarios.
Our wood plastic composite luxury vinyl tiles are an extremely popular option among durability conscience customers. With their textured grain pattering and incredibly realistic print, they do a great job of imitating natural timber. The core of the boards consists of a mixture of wood pulp and plastic composites which produces a very sable, reliable floor board. Hard wearing, durable and suitable for underfloor heating, an LVT can be a classy and long-lasting addition to a property at a very competitive price point.
Engineered Oak is a natural product and as such, comes with all the desirable unique beauty and character that no artificial alternative can truly parallel. However, in being a natural material the oak surface requires a finish (either factory applied or site applied) that gives the timber the required protection against wear and spills. There are a number of finishes available for wooden floors, each having their own set of pros and cons. There are other articles on our website which cover in greater detail the pros and cons of different finishes so we'll keep things simple for now and say that if you're looking for a oak floor with a natural oiled look then we believe there is no better way of protecting your floor than treating on site with a high-quality hard wax oil finish. Treating a floor with a product such as Treatex Hard Wax Oil will give your floor excellent durability and stain resistance while simultaneously ensuring ease of cleaning and maintenance down the line.
'Low traffic' areas within a property are those areas that are likely to receive less wear and tear. An example of this might be an upstairs bedroom or hallway. Alternatively, if the flooring is being situated in a household where the 'No Shoes in The House!' rule is diligently enforced, or your preference of pet is more goldfish than golden retriever, you may consider a pre-treated floor to be more than fit for purpose. Many of the pre-treated Engineered Oak Flooring available comes with a good level of protection straight out of the factory and, in many cases, this is more than sufficient. Choosing a pre-treated board also suits time sensitive renovations and can save costs, certainly in the short term. Depending on the board, additional specialised treatments can be used on pre-treated options to increase durability. Food for thought however, I you are considering over-coating a pre-treated for extra durability and protection, why not go for an untreated board in the first place and allow yourself more choice of finish.
Q2: Does Thickness Matter?
One important physical attribute of a board that is decided primarily by technical requirements rather than aesthetics is thickness. If you are spanning joists for example, there are some prerequisites that need addressing before you move forward.
The recommended standard thickness for spanning joists safely and effectively is 20mm. Stability is a must in this case and as such a thicker board is required to support weight safely.
Our 'Supreme' Engineered oak is a great option is this case. Additional options in a 20mm + thickness can be supplied upon request. For more information on spanning joists please give us a call.
If you are not needing to span joists, a particular thickness is not a necessity. This being said, the overall thickness of a board is often directly correlated with the thickness of its upper 'wear layer' of oak which in turn determines the extent to which you can sand back your boards over the years to refinish.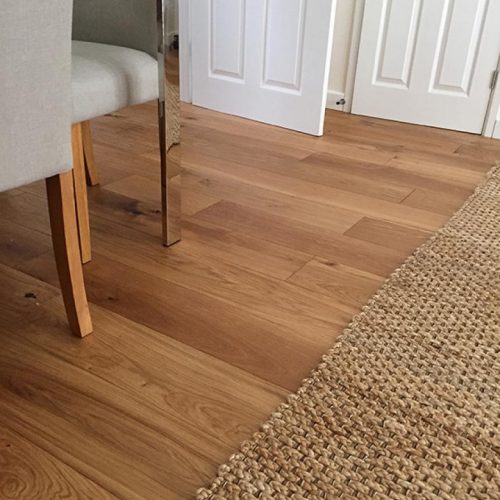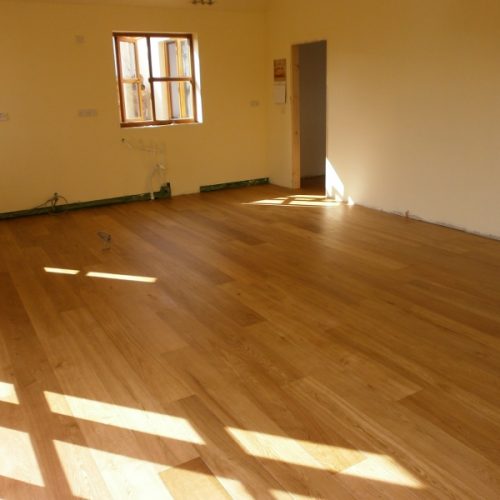 Q3: Can I Choose the Colour of My Engineered Oak Floor?
Although this question is the last within the context of this article, we are under no illusion that it is the last consideration that customers make. Getting swept away with colour options can distract from the equally as important factors that we've already covered (and we have not covered them all here) and, with this knowledge, we have left this point until last.
We have covered, to some degree, the benefits of buying untreated boards and treating onsite for high levels of durability. In addition to this, buying an untreated board leaves you open to choosing a stain that suits your tastes and interior. Ultimately, should you choose to purchase an untreated board, then the final result in terms of sheen level and colour is entirely dependent on what you choose to treat the flooring with. This allows you to pick a board based on its length, width, thickness, texture, grade (character), quality, price etc knowing full well that you can achieve the colour / finish you desire. This can often make the decision-making process simpler because trying to the find board that ticks all the boxes just mentioned, as well as be the right colour for you, can be quite the challenge.
We stock a range of Treatex colour tones that have proven to be extremely popular. With a spectrum of colours options designed to suit any environment, Treatex is a great choice. For more information on Treatex feel free to refer to the Treatex website or call us to discuss.
Time to Request A Sample
Requesting a sample from us can be as easy has visiting the product page of your desired flooring and clicking the 'Request A Sample' button. We are also able to take sample requests over the phone. We kindly request that you keep the number of samples to three or fewer unless you are a trade customer. Again, we reiterate that a conversation with us can often be enough to whittle-down options to remove the need to see a large number of samples is any case. Hopefully by this point you are slightly less overwhelmed than when we started. If you are still scratching your head and feel that a chat would be beneficial, please feel free to give us a call. As a small family business, we take pride in honest and open communication, offering a single point of contact from start to finish.