A real wood floor adds a truly beautiful style and feel to any space. But keeping that floor clean is essential for protecting it and extending its longevity. The colour and appearance of the wood will naturally slowly shift, but it's important to ensure this only happens as a result of natural ageing, and not as a result of damage caused by poor maintenance.
general wood floor
cleaning tips
Ensure you have good quality doormats at all entrances to your house, preferably made from coir matting, to catch as much dirt as possible before it enters your home.
Wipe up any spills on your wooden floor as soon as possible. Liquid left standing on the surface of the wood is more likely to be absorbed into the timber, which can cause stains or movement within your floor.
Sweep, mop (with caution) or vacuum your hardwood floor regularly. This will prevent any abrasive dust or grit accumulating, which can scratch the surface of the wood and damage / dull the finish.
Use a vacuum with a soft brush head. It is not recommended that you use a vacuum with a hard head that can mark the floor. The same applies for heads with a rotating brush as these often have a support bar underneath that could potentially scratch your floor.
No steam cleaners. It is not recommended that you use steam cleaners to clean your hardwood floor as they can breakdown the finish as well as potentially cause damage to the floorboards.
Use felt pads on the base of all your furniture, to prevent anything scratching the wood.
When mopping your floor, use the minimum amount of water. Use a mop you can ring out well so you're not applying an excessive amount of water over the timber.
Avoid household cleaners and detergents as they can be abrasive, causing damage to your wooden floor.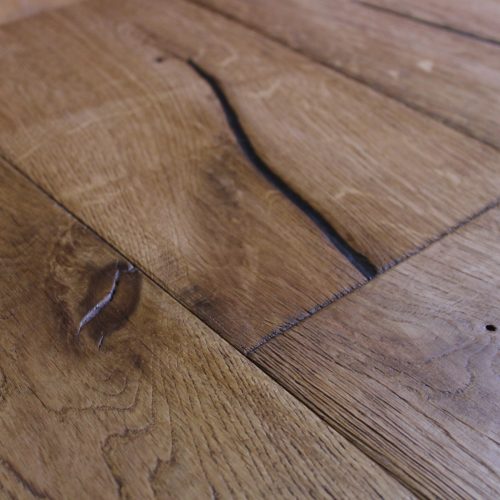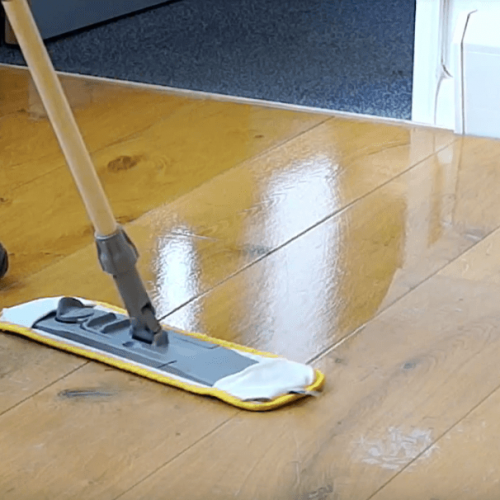 How to clean a lacquered wooden floor
A high quality Lacquer will provide an extremely hard finish that is designed to last a long time. From a cleaning perspective, it is simple, as you can effectively clean your floor using a damp mop and appropriate lacquer wood floor soap.
That being said, it's important to be extra careful when cleaning lacquered floors, as the finish can't be replenished or patched up easily. Avoid detergents and the use of steam, as this can break down the lacquer over time and take note of the other tips described above.
"Top tip – if you're mopping your hardwood floor, go for the two bucket approach. One to clean the mop and one to re-stock it with fresh water. That way, you won't end up rubbing dirt and grit across the floor, which could scratch it."
Tom Fanthorpe, Wood Flooring Specialist @ JFJ
Beyond this, the specific method of cleaning required depends on the manner in which your hardwood floor was finished….
How to clean an oiled wooden floor
An oiled finish on a wooden floor provides a more penetrating seal, which soaks into the grain of the wood and hardens. Unlike lacquer floors, oils can be more easily replenished by the use of soaps and further treatments of oil.
Consequently, oiled wooden floors can last longer than lacquered providing they are correctly maintained – many lasting decades in good condition.
Oiled floors are generally simple to clean. The cleaning product that you use will depend on what oil has been used to treat your floor. For example, if your flooring has been treated with Treatex Hardwax oil you would clean your floor using a product called Treatex Floor Care whereas if your floor was treated with a Woca Oil you would clean your floor with Woca Soap. These products are simply mixed with water and you can mop your floor, being careful not to get the floor too wet, in the normal way.
Here's a quick video from Treatex, with instructions on how to clean a Treatex finished floor:
Cleaning your oiled floor with the appropriate cleaning product will ensure the finish stays as healthy as possible, as a quality cleaner for oiled floors repeatedly coats the surface of the floor with additional protection.
Retreating & Replenishing
An oiled finish can also be replenished using maintenance oils and polishes. In a domestic household this is not something that has to be done regularly, however it can be done if ever required. Often this is as simple as cleaning the floor and applying the treatment and does not require any form of sanding.
Also, when the time comes you can sand and entirely retreat the floor, returning it to its original lustre. However by using quality cleaning and maintenance products, it's very unlikely that this will need doing until many years down the line.
---
Looking for a beautiful new hardwood floor? We offer Treatex Hardwax Oil and Woca products at a special price to anyone buying our flooring, ensuring your floor will last as long as possible, and is a breeze to clean. To get a quick and easy quote for a new hardwood floor in a variety of solid or engineered oak or walnut options, based on your own room dimensions, try our simple Flooring Calculator…