key factors
underfloor heating with engineered wood flooring
One of the many benefits of fitting a quality engineered wooden floor in your home is its compatibility with underfloor heating. Underfloor heating is not only an effective and luxurious heating solution but also a great way to save space. However there are a number of important factors to consider when laying engineered wooden flooring over underfloor heating of which we've detailed below.
Make sure when laying flooring over screed that the screed is completely dry. The moisture content of the screed should be below 3%. Some adhesives and underlays recommend different levels of moisture content of your concrete subfloor so make sure you check the instructions on each individual product you are using.
Make sure the underfloor heating has been turned on before the flooring is laid. This will not only test the system but it may also drive out any moisture that is still within the screed. It's important that this is done before any flooring is laid.
It is also recommended when laying engineered wood flooring over underfloor heating that the heating system is turned down low or off if/when you treat the floor using a product such as Treatex.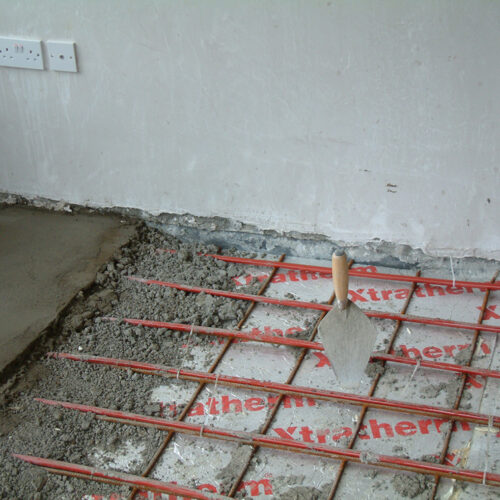 The design and installation of your underfloor heating should be left to a qualified professional and they should supply you with the appropriate certification to show that the system is fully operational with temperature control that ensures that the underside flooring does not go above 27 degrees Celsius. This cannot be controlled by room thermostats alone.
Make sure to read and follow all instructions that are provided with your underfloor heating and screed and always consult us if there is anything at all you are unsure of. This also applies to the underfloor heating suppliers.
When you turn your heating on it is recommended that you turn up gradually in small increments and do not make dramatic changes to the surface temperate.
Do not have unevenly displaced heat. There should be no hot spots in the subfloor.
We would not recommend that you have heavy rugs, matts or other similar materials covering the flooring. This can cause the boards to heat up more than is recommended which can cause stresses in the board, greatly increasing the chances of movement and changes within the floor. It can also cause discolouration. Anything covering the flooring wants to be light and breathable.
Which of our floors are best over underfloor heating
Now you have a basic understanding of the factors to consider when laying engineered wood flooring over underfloor heating you may now be thinking "which floor would be most suitable?"
Here at JFJ Wood Flooring we offer a range of flooring solutions, all of which are suitable to be laid over underfloor heating systems. We have details below the types of flooring we offer and some underfloor heating related factors to consider.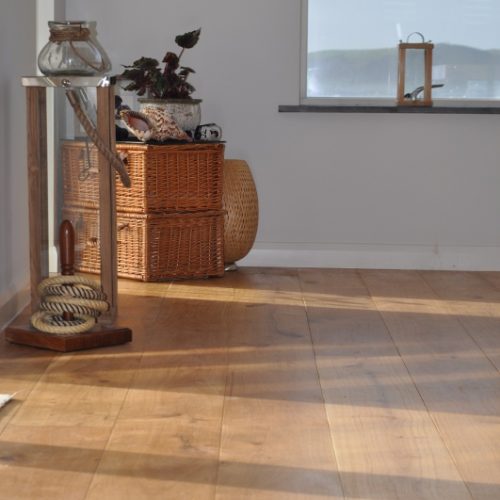 Engineered Oak Flooring
View our engineered oak flooring range here.
Engineered Oak Flooring is the most popular range of flooring we offer due to it's versatility, practicality and beauty. Oak is a paler timber and therefore many different colours can be achieved. It's also available in numerous sizes, grades and dimensions making a extremely popular choice of flooring in the UK.
There are some underfloor heating systems which stipulate a maximum thickness of flooring that can be used over the top of their system. This is far more common with electrical than it is with water based systems but we recommend that this is something you check before choosing your engineered wooden floor.
It's important when laying engineered wood flooring over underfloor heating that the flooring is installed in a recognised method. The most common fitting methods when laying over UFH include gluing down to subfloor or floating using a suitable underlay. It's important to understand the make up of your underfloor heating and subfloor to establish what fitting method would work best for your property.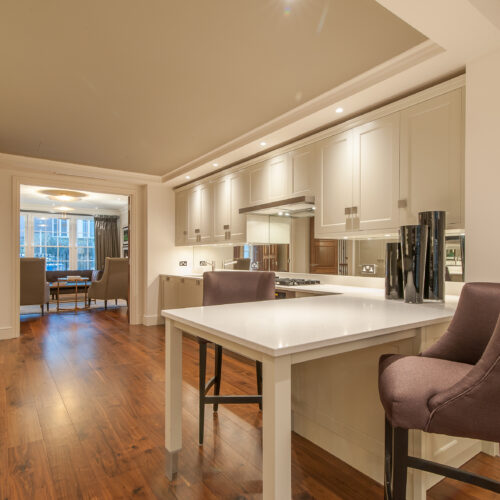 Engineered Walnut Flooring
View our engineered walnut flooring range here
Walnut has an unmatched elegance and charm. Walnut is a more expensive timber to European oak but it's rich deep colour with decorative blonde grain can for some make it worthy of it's higher price tag.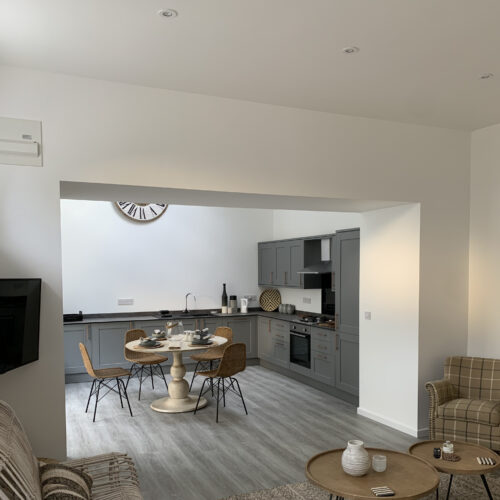 LVT & Durable Wood Flooring Alternatives
View our range of Durable Wood Flooring ranges, including LVT (Stone / Wood Plastic Composite) and Modular One here
We stock a range of LVT's and Durable Wood Flooring alternatives which tick all boxes when it comes to value for money and practicality. These ranges are very realistic and are available in a wide variety of colours and styles. The planks come with a built in underlay and simply click and lock together making them one of the simplest floors on the market to install. Perhaps not the right choice for the true traditionalists but for those looking for cost saving, durability, ease of installation and more they're well worth seriously considering.