which to choose
Long boards vs Random Lengths
When it comes to choosing the best wood flooring for your home there will be many decisions to make and factors to consider. One of these is whether to choose a long boarded flooring or a floor which comes in random lengths. Which looks best is ultimately personal preference but there are some other points worth noting which we detail below.
We supply different lengths of boards; our 'Country' range, available in both 150mm wide and 190mm wide, is random length with boards ranging from 300mm and longer. Other ranges, such as the 'Supreme' and 'Classic', are longer boards up to 2200mm long. Our engineered oak flooring page can be found here – where you can compare the different sized boards we offer both in terms of price and appearance.
So why choose one over the other? Read on to find out more….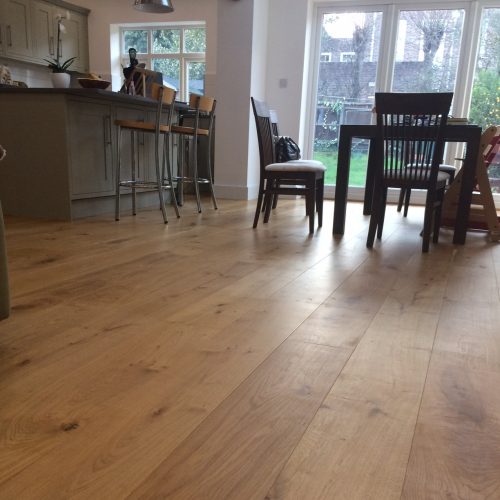 Size of your room
Longer boards are often said to suit larger room. This is because there are fewer boards making up the floor, giving the floor a less busy look. It's also said that they allow the beauty of the oak to be shown off more as you don't keep breaking the grain pattern like you otherwise would with a shorter boarded floor.
In smaller rooms, people may consider that a mixture of both long and short lengths, of which you'd get from a random length floor such as the 'Country' range, would be better suited. Some consider having a mixture of lengths more interesting and provide a more traditional and less clinical looking floor. All of which, again, is personal preference.
Difference in fitting time
This is something that should definitely be taken into account before purchasing your floor. Random length floors are generally cheaper to purchase per square metre. However they will take longer to fit in comparison to a longer boarded floor. Consider this when budgeting as longer fitting time could mean higher fitting costs.
Amount of wastage
It has been said that you can get less wastage with a shorter plank however from experience we have not generally found this to be the case. When laying a long boarded floor and get to the end of a row you would usually start the next row with that off cut. It also helps that with most of our long boards you occasionally get a cut board in the box which helps you naturally stagger the end joints and prevent patterns from occurring. Often when fitting, the only cut you should have to make is when you lay the final boards up to the wall.
The surface you're fitting on to
If you are planning on spanning joists then a floor that has short boards would not be suitable as there would be too many end joints which would weaken the structural capabilities of the floor. If you were laying onto a solid load bearing surface such as concrete, plywood, chipboard etc then this wouldn't be a problem and the choice between random length or longer boards is entirely up to you.
Budget
Lastly, random length flooring usually work out a cheaper to purchase than longer boards. This is because the manufacturer can get maximum yield from the timber when they're able to use the shorter pieces.