Wood / Stone Plastic Composite
LVT Flooring
Let's start by breaking down the acronyms LVT, WPC and SPC. LVT stands for Luxury Vinyl Tile – a product that emulates the natural characteristics of wood flooring but provides additional benefits which we will look into further on in this article. LVT Floors are made up of a number of layers. Starting from top to bottom these include a UV Coating on the surface, an extremely durable wear layer, a high definition decor film / print, a vinyl layer, the core (WPC or SPC) and in our case a built in 1mm thick underlay on the underside of the board.
WPC stands for Wood Plastic Composite and describes the makeup of the core of a WPC board; a mixture of wood pulp and plastic. SPC stands for Stone Plastic Composite which makes up the core of an SPC board and consists of a limestone and plastic mix. These dense constructions create a stable and water resistant core which allows this board to be used in the majority of household or light commercial environments.
View our LVT Wood / Stone Plastic Composite Flooring Range here.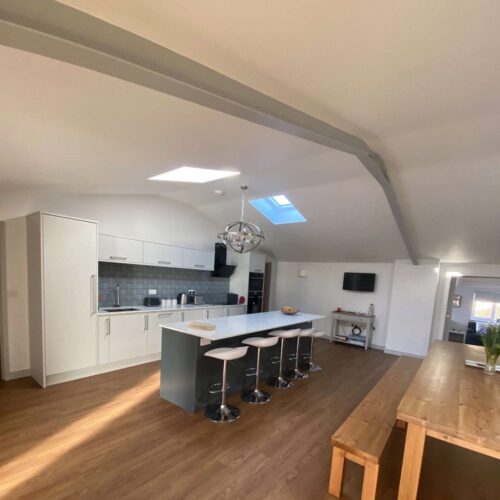 What are the advantages
Luxury Vinyl Tile Flooring
Pound Shillings and Pence
A good quality LVT floor is arguably one of the best value for money flooring options on the market. Although it is dearer than laminate floors, the durability, longevity and stability (more on this below) that an LVT floor offers far outweighs anything you can get from a cheap laminate. At the time of writing this article our LVT WPC flooring range is at £26.99 + VAT per m2 without the need for any additional oils, underlays or glues.
Here at JFJ we have been suppliers of real hardwood flooring for over 35 years and our family dates back in the woodwork industry as far as 1853. Real hardwood quality flooring is in our blood and it could be said that nothing can truly replicate that of a real wooden floor. However when you consider the cost of a high quality engineered hardwood floor, combined with the cost of oils, underlays / glues etc there is a large cost saving to made if you choose to use an LVT Wood Plastic Composite or LVT Stone Plastic Composite floorboard that should definitely be considered.
Durability, Longevity, Stability
From a practical perspective a Luxury Vinyl Tile floor has all bases covered. It's extremely durable and scratch resistant meaning it can be safety used in even the highest traffic areas of your home. Whether you choose to use this type of flooring in your busy family kitchen, office or shop, you can be assured that this type of flooring will be extremely resistant to scratches and dents.
Due to its construction a Wood Plastic Composite Vinyl is also very stable and reliable. Unlike laminate floors, which have a porous core and therefore can be badly affected by moisture, Stone / Wood Plastic Composite is extremely dense and water resistant. This allows it to be used over underfloor heating and in wetter rooms such as bathrooms. It also makes the floor extremely easy to clean as it can simply be mopped without the risk of water causing it to move. The density of a LVT plank also is noticeable underfoot. Whereas laminate floors can have a tendency to squeak and feel 'light weight' an LVT floor, provided it's laid onto a suitable subfloor, feels solid and of high quality to walk on.
Ease of fitting
There are a number of brands of LVT floors on the market and the recommended fitting methods can vary with some requiring additional underlays or glues. Our LVT WPC and SPC flooring ranges have a built-in 1mm thick acoustic underlay eliminating the need for any additional products to be required for fitting.
The boards come with an accurately machined 'click lock' system which allows the planks to simply be clicked together which then locks them into place. This makes for an extremely straight forward, DIY friendly, fitting method. Fitting time, and costs, of an LVT floorboard are usually far less than that of a solid or engineered oak. It also means that the floor can easily be removed if necessary by simply detaching the the boards from one another.
Our range of LVT WPC & SPC is 6.5mm thick which is much thinner than a higher quality engineered or solid oak floor. This can be advantageous as it can often eliminate the need for any serious adaptations to the subfloor or any thick thresholds between rooms / flooring types.
Beauty and Appearance
Of course one of the most important aspects of any decision when it comes to your home interior is the beauty and appearance of your floor. A well made Luxury Vinyl Tile floorboard does an incredibly good job of replicating the charm of natural stone or wood. The high definition print emulates the knots, splits, grain patterning and characteristics of that of a real wooden floor. This, combined with the textured finish, provides a feel of authenticity far superior to that of a cheaper laminate.
See The Quality For Yourself
With all this being said there is nothing quite like seeing the quality for yourself. If you're local then we would highly recommend that you come in and visit our wood flooring showroom here in North Molton, North Devon. Here we have the whole LVT Wood / Stone Plastic Composite Flooring range on display and we have the 'Acorn Oak' laid throughout our office. If you are not able to come and take a look in person than do have a browse through the colour choices on our website here: Luxury Vinyl Tile WPC Devon and feel free to request a free a sample of the colours of your choice.
Should you have any questions or wish to discuss your project with us then please do not hesitate to give us a call on 01598 740197 or email info@jfjwoodflooring.co.uk