If 2020 has taught us anything, it's to appreciate what and who we have around us. We spent much more time in our homes than ever before and perhaps it's time to make where you property that bit more comfortable in 2021 with a new floor.
Engineered wood, LVT and Solid Oak
New flooring is a really good way to give your home a fresh new look this year. Homes are busy places and so a floor needs to be functional but impressive. The question is though, which type of wooden flooring is best for you? The good news is that all our floors are popular choices for 2021. They're easily cleanable as well as being tough, durable and stylish and with a range of styles of engineered oak, walnut, Luxury Vinyl Tile and solid oak from JFJ Wood Flooring then you've come to the right place.
Engineered wood
Each board oozes quality. When you hold a JFJ engineered oak or walnut floor board in your hands then you know you've got the finest product for your floor. Each board is made of a number of layers to provide stability and strength making them suitable to be used over underfloor heating systems. We have a range of different sizes and with untreated boards available and the option of applying Treatex Oil then there are plenty of finishes and colours to choose from.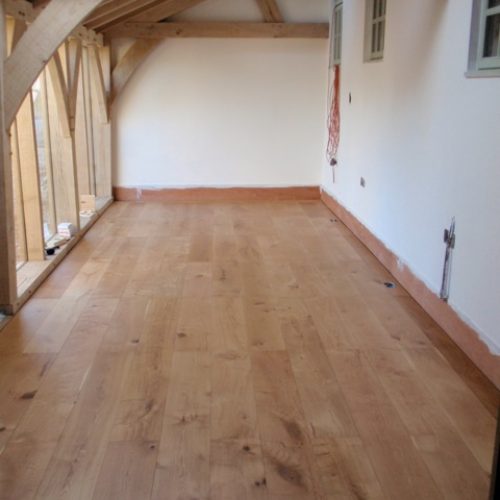 LVT
Our range of LVT is a high quality vinyl plank which offers a durable, practical and affordable choice for a stylish floor. The core of these boards consist of a wood or stone plastic composites which produce a very stable and reliable floorboard. This is then topped with a vinyl layer which has an extremely realistic wood effect print. Hallways, bathrooms, kitchens are all good locations for this type of flooring as well as for the home office as we have LVT laid throughout our offices here at JFJ.
You can view our range of durable wood flooring alternatives, including LVT, on our website here.
solid oak
Admittedly, the popularity of solid oak flooring is decreasing and this is due to the fact that the top layer (wear layer) of an engineered oak board is exactly the same oak that is used on our Solid. Meaning a high quality engineered oak floor will have just the same beauty, character and warmth than a solid oak, but with much higher levels of stability and reliability. This being said if you're a traditionalist and solid oak is what your looking for then we do still offer a limited range of Solid Oak boards. Feel free to give us a call, discuss what it is you're looking for and we'd be happy to help.
new year new floor
Here at JFJ Wood Flooring it's not only a new floor for New Year that you'll receive. It's also a personal service that can't be offered by some of the big national companies. We're here to speak to and we'll pass on our knowledge and experience of the best floor for your own circumstances. Our website has lots of genuine photos of flooring laid in previous customers homes for you to look at and we are happy to send free samples for you to see for yourself.