as featured in the
self build & design magazine
Situated in a semi-rural location in the hamlet of Eashing, close to Godalming in Surrey, is a 1964 stainless steel clad property. The house has undergone a spectacular and award winning re-modelling and restoration by renowned architect Jake Edgley of Edgley Design. This contemporary new home of modern beauty really shows you how durable our quality engineered boards can be and also how such a natural and traditional material such as oak can work so well in unison with a radically designed building.
Adrian and Imogen Osborne purchased the house located in the Surrey village after Adrian fell in love with it immediately and persuaded his partner that it was the right property for them and their family. Surrounded by 2.5 acres of parkland gardens, the cluster of monopitch brick structures which made up the house enjoyed views across farmland, and the existing building had strong forms, which convinced Adrian that it would make a spacious and interesting home.
Their architect's strategy was to upcycle the existing house by extending and remodelling the building and wrapping it in insulation – retaining the strong forms of the 1960s structure and accentuating these by creating large overhangs, which also shade the glazing. Roofs would be replaced and the old conservatory demolished to improve the composition.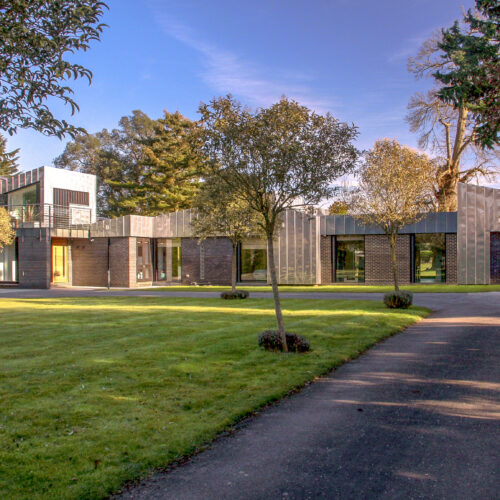 based in Surrey and in the market for wood flooring?
wood flooring surrey
Are you based in Surrey and looking for a new wooden floor? We a family run business who specialise in high quality wood flooring and have been supplying our ranges of flooring nationwide for the past 15 years. Get in touch today to discuss your requirements and we'd be delighted to see if we can help. View our engineered oak flooring range here or give us a call on 01598 740197.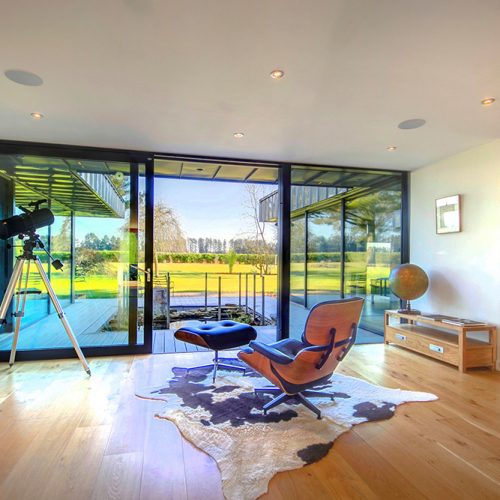 The exterior would then be clad in stainless steel panels to reflect the colours of the landscape and sky, with large windows installed to allow natural light to flood the ground-floor living spaces, which gave them the final masterpiece viewable in the pictures.
Adrian and his wife along with their architect decided that they would use our 'Supreme' range 220mm x 21mm Engineered Oak floorboards across a vast amount of their floor, from the hallway through to the bedrooms and sitting room as you can see from the photos.
The flooring was also laid over underfloor heating, which is one of the reasons why our engineered boards were chosen, due to their traditional oak look, durability, and ability to stay stable without expanding or shrinking under different temperatures.
The use of our floorboards in this unique property shows how you can bring that feel and sense of the surrounding countryside into your home. The large glazed windows which have been installed around the house really connect the rooms to the garden, and our 'Supreme' floorboards really fit in well to that aspect. Also in terms of longevity, these floorboards will last years, because even when they do start to look worn out and tired, the surface can be sanded back and re treated to keep it in touch with the modern look of the house.
Photography by Hamptons
Architects and project manager of build: Edgley Design
Featured in Self Build & Design Magazine.