confusing terminology
Before we discuss the differences, advantages and disadvantages of laminate vs real wood flooring it's important to first understand the confusing terminology. The terms "laminate", "real wood", "engineered" and numerous combinations of all 3, leaves many people confused.
The term "Laminated": Different layers / materials that are bonded together. Technically speaking both an Engineered Wood Floor and a Laminate Floor consist of laminations of different materials.
"Laminate Flooring": Usually consist of a particleboard wood base (MDF / HDF) topped with an image designed to look like wood or stone and a protective wear layer.
"Real Wood Flooring": A floor which consists of a real piece of the desired timer, such as Oak. Both "Solid Oak Flooring" and "Engineered Oak Flooring" would be considered "real wood flooring" as they both include real oak.
"Real Wood Laminate Flooring": This terminology is not recognised within the industry but is commonly used by customers. Most people who use this terminology are referring to an "Engineered Wood Flooring" because they're looking for real wood, which is laminated to a material to either make the flooring cheaper or more stable / reliable.
"Engineered Oak Flooring": This is the correct terminology for a real layer of oak which is bonded to, in the case of our engineered oak flooring, a multi-laminate plywood core. You can view our range of engineered oak flooring here.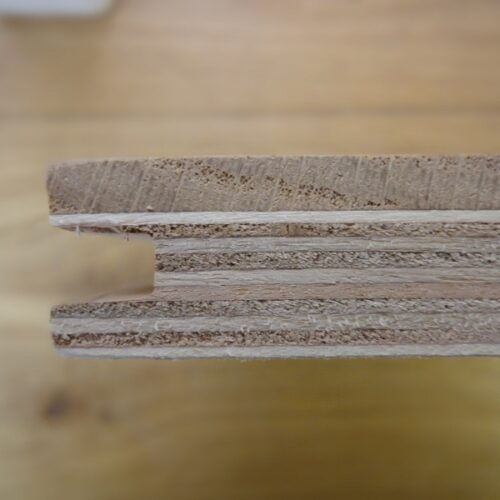 real wood and laminate flooring - pros & cons
Despite recent advances in modern printing technology, the printed image on a laminate floor board can never truly replicate the genuine knots, grain and texture that give real wood boards their timeless charm. Although you may be cutting costs by choosing laminate – you're most certainly also cutting back on quality and beauty. Arguably the biggest advantage of real wood over laminate is it's beauty. The natural characteristics of a real wood floor can never truly be replicated and every wooden floor will be unique in it's own way.
In terms of budget, laminate flooring will be considerably cheaper to both initially purchase and install. However in our opinion, the compromise really isn't worth it. If your initial budget allows and you intend to stay in your property for the long term, then the extra investment in a real engineered wood floor will pay you back multiple times in both quality and longevity.
Redecorating again?! Unlike laminate flooring, where the finish can't be changed, engineered wooden flooring can be sanded back multiple times. Should you choose to re-finish your floor with a different stain / treatment, you can transform the appearance of your floor and give a completely different style to your room. This gives plenty of scope for changing your colour scheme and design theme without the need to worry about completely replacing your flooring – sand back the hardwood wear layer and choose a finish to suit your fresh new décor!
Engineered wooden boards can be purchased from JFJ Wood Flooring ready treated, or supplied unfinished for you to finish with a stain of your preference. When choosing your board, make a note of the thickness of the wear layer – A thick 6mm wear layer will allow for the board to be sanded back more times than a thinner layer. We stock engineered wooden flooring with wear layers ranging from 3mm – 6mm to suit your budget and requirements. For more information on engineered wood flooring wear layers, please visit our Wear Layer – All you need to know article.
Real wood flooring is a profitable long term investment for your property – homes with real wood flooring are time and again reaching greater values on the housing market than those fitted with laminate flooring. Not only is the natural charm and welcoming beauty of real wood attractive to prospective buyers, but the ability to sand and re-finish multiple times means that the flooring will last a lifetime and therefore the replacement can be left to the grandchildren!
Laminate wood floors are often chosen for their affordability and durability and in many settings laminate floors can be a very practical flooring solution. But for those looking for a practical, affordable and long lasting option LVT Flooring should definitely be considered. Much like Laminate, LVT flooring is not real wood and therefore cannot truly replicate the natural characteristics of wood. However, LVT Flooring is very durable, waterproof, is expected to last at least 30 years in domestic settings and generally considered more attractive and authentic looking. Our range of LVT Flooring can be found on our website here and for more details on the comparison between Laminate, LVT and Engineered Wood read our "The Best Wood Flooring: Laminate, LVT, Engineered Wood or Solid Wood" article.