which is more durable?
solid oak vs engineered
This is one of the most frequently asked questions when it comes to purchasing wood flooring, especially for those of you who have not dealt with engineered wood flooring before. Many people have been fully converted to engineered but still to this day engineered remains a highly misunderstood wood flooring product.
Hopefully this short article will help inform you of how engineered wood flooring is as good, if not better, than solid wood and how it will stand up just as well to wear and tear.
What is solid and engineered wood flooring?
If you're not sure already, let's just re-confirm what is meant by engineered wood flooring and solid wood flooring.
Solid wood flooring is flooring made from a solid piece of wood and nothing else. High spec engineered wood flooring on the other hand is made up of a thickness of hardwood on the top surface that is bonded to a multi-laminate hardwood ply. A plywood is basically multiple layers of hardwood bonded together in opposite directions. This is what gives the board its strength and stability and is what makes it suitable for harsher conditions such as when used over underfloor heating or in kitchens, bathrooms, conservatories etc.
When it comes to your floor lasting there are two different factors; durability and life expectancy. Durability would be referring to how hard wearing the flooring is, how resistant it is to scratches and damage and how easy it is to maintain. Life expectancy, which is very closely linked with durability, is how long the floor will last until it's a right off. This is determined on the durability of the finish and how many times the floor can be re-sanded.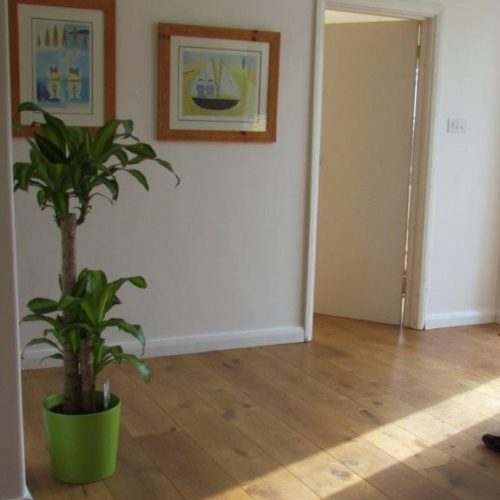 Durability
How durable a floor is will be dependent on what type of timber you purchase and also what the timber is treated with. Some timbers are harder than others and harder timbers such as oak are naturally more durable than softwood timbers such as pine. This has nothing to do with whether the board is solid or engineered because the top surface of an engineered board would be the same timber that would be used for solid and therefore be equally as hard.
There are a number of different finishes on the market that can be applied to the timber to make it as durable as possible. Lacquers and oils are the most popular finishes and the pros and cons of these can be found in this article: /newsarticle/oiled-or-lacquered-whats-best-your-home. Again, an engineered and solid oak board would be equally as durable providing they were treated with the same finish.
Being able to replenish and maintain a healthy finish on your floor can often be something that is overlooked during the purchasing process however it's important to consider that no finish is scratch or damage proof. Therefore having a finish on your floor that can be replenished and maintained using specific products can massively help to keep your finish as healthy and durable as possible, for as long as possible. In other words, if you go for a finish which you can replenished simply by using maintenance products it will increase the life expectancy of that finish and in turn mean the finish would last longer before the flooring would require refinishing or sanding.
Life expectancy
It may feel like solid oak floors last forever, but they do in fact get to a point where they can no longer be used. On a tongue and grooved solid oak board you could only sand the board down to the top of the tongue and groove (the profile that holds the boards together). So the life expectancy of a solid board can be measured by the distance from the top of the tongue to the top surface of the board. Generally on a solid oak board this is around 6mm which is the same thickness of oak that is on our 'Supreme' 21mm thick engineered oak range.  This simply means that it will last just as long and you'll still have that character and beauty that you get with a solid oak board.
Conclusion
In conclusion durability of a floor is more so determined by the hardness of the timber and the finish that is applied rather than the boards construction. Even a thin engineered board could be considered more durable than solid if it was treated with a higher quality finish. As for life expectancy, well this depends on what quality of engineered board you choose to purchase but if you choose an engineered board with a 6mm wear layer you can have a floor that has all the life of a solid but with all the advantages of stability that come from engineered. It's a common misconception that solid oak is more durable, in some cases it can be, but more often than not it isn't.
If this article has been useful to you but you'd like to chat, please get in contact with us. As a family business we like to help where we can with any enquiries. Call us on 01598 740197 or email us at info@jfjwoodflooring.co.uk