Get a Great Return on Investment and a Beautiful Floor at the same time
When choosing which flooring to purchase for your home there may be some factors that seem obvious to consider such beauty and practicality. However one factor that may not be quite as obvious is return on investment. Whether you're simply renovating, building an extension or developing a new build it's nice to know how much of the money you're spending you would see back should you choose to sell your property.
Why Choose Engineered Hardwood Flooring?
There are numerous options for flooring in your home including a wide variety of stone, fully fitted carpets, and of course cheap laminate flooring. But in terms of value for money and return on investment (ROI) engineered oak flooring ranks extremely favourably.
According to home remodelling experts the average ROI for installing hardwood floors sits around the 70%–80% range and a hardwood floor can add up to 2.5% to the value of the property. Also according to a National Wood Flooring Association study 99% of estate agents surveyed agreed that a wooden floor boosts the listed value of a property and of this number 82% said they found it easier to sell a property which has hardwood flooring fitted in comparison to those with carpets fitted.
A floor for life.
It's also worth taking into account that a high quality engineered hardwood floor can be a floor for life. Whether you decide to stay in your current property or move home the floor can always be re-finished and brought back to a like new condition. This not only means that you do not have to replace the floor, it also means that with lighter timbers (such as Oak) you can finish the floor with an entirely fresh look should your tastes, fashions or property owners change over the years.
Choosing an hardwood floor that's right for you
So we know that hardwood flooring is a good choice when it comes to return on investment but which type of hardwood floor gives you the best bang for your buck. There is no set answer to this as it very much depends on what exactly you're looking for and your plans for the property it's going in. We have briefly detailed below some factors to consider and how the type of property the flooring is to be laid in may affect your decision on these factors.
Timber Choice
Oak floors are by far the most popular choice when it comes to timber choice. They are more affordable than the alternatives such as Walnut, durable and naturally light in colour meaning they can be stained with many different colours to suit your interior.
Engineered Oak
Nowadays in almost all cases we would recommend a high quality engineered oak board over solid oak. Providing you purchase the correct specification, an engineered oak board will provide you with much higher levels of strength and stability thus making the floor far less prone to unwanted movement. The cost of European oak as a raw material is also on the rise. The fact that with an engineered oak board only the 'wear layer' is the slow grown European Oak means that you are not wasting, and paying for, so much of this valuable timber. An engineered oak floor will look exactly the same, and equally as beautiful as solid, therefore still giving you that 'wow factor'.
Finish
Similar to the thickness of the board, your plans for your property are likely to play a part in what finish you choose. If you're planning on keeping the property then factors such as durability, ease of cleaning, ease of maintenance / replenishing floor, stain / water resistance etc are likely to be high on the priorities list. Therefore you may choose to apply a high quality hardwax oil such as Treatex on site.
This involves on site application however the finish you get is superb and ticks all the boxes mentioned above.
If, on the other hand, you were planning on selling the property then you may choose to purchase a pre-oiled or pre-lacquered board that will give the floor more than enough protection until the property has sold and save you the labour of applying the finish yourself.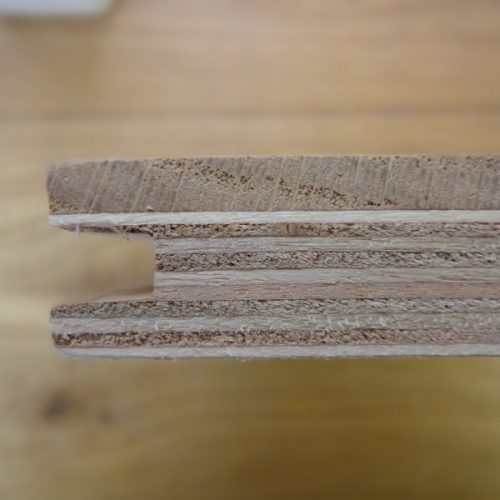 Thickness
The overall thickness of the engineered oak floor you choose will dictate the thickness of the oak layer, known as the 'Wear Layer'. For example our Supreme 21mm thick board has a 6mm wear layer whereas the Country 14mm thick board has a 3mm wear layer. The more oak the board has the more times the floor can be sanded, thus increasing its life expectancy. We speak in much more depth about wear layer in this article: Wear Layer – All You Need to Know.
When it comes to return on investment you must consider what plans you have for the property the flooring is to be laid in. For example if you are considering selling the property within the next few years it could be said that paying more for the thickest and dearest board would not benefit you and a thinner option would be a better choice.
Whereas if the property you are to be laying the flooring is to be kept for the foreseeable future and is going to be high traffic you may consider the extra money spent on a thicker board and thicker wear layer worthwhile. It's important to note though that even a 3mm wear layer will last decades in normal domestic use.
Grade
The 'Grade' of the timber refers to the amount of knots and natural characteristics that are featured within the boards. There is not a right or wrong when it comes to gradings and it's very much a case of personal preference and style of property. A Prime Grade board will mean there are very few knots and characteristics within the boards and this requires a much higher selection during manufacture which in turn increases the cost.
If you're developing a property to sell it's questionable as to whether you'd see a return on investment in paying extra for a Prime grade board. Again though, the interior design does need to be considered here as if you're looking for a very clean look you may come to the conclusion that Prime a grade is worth the extra cost.
It's hard to cover each individual scenario in a single article. As always, should you have any questions or wish to discuss your specific project please do not hesitate to contact us. We are a family business and always happy to help. Either contact us via email / website or call today on 01598 740197.