distressed wood flooring
Distressed wooden flooring is a particular style that is designed to give an old and worn feel to a new hardwood floor.
Distressed boards tend to come with a textured finish that enhances the grain of the wood. They also tend to be an extra rustic grade meaning the floors feature their fair share of knots, blemishes, cracks and natural features within the timber – giving it the character and charm that many desire.
A good quality distressed engineered wood floorboard will provide you with all the strength, stability and reliability of a well-made engineered oak floor with the characteristics similar to an old reclaimed floorboard.
While the wood used for distressed flooring is rustic in its grade, not all rustic flooring is distressed. You can get rustic engineered oak flooring, which will feature many knots and natural features, without the textured grain, large splits within the timber and rough edges.
Distressed wooden flooring is ideal for use in any design that has an antique, 'old world' or well-worn feel. It's perfect for creating a cosy, authentic or a timeworn feel. It both complements and enhances any traditionally designed décor and can often be used as a contrast in many modern designs.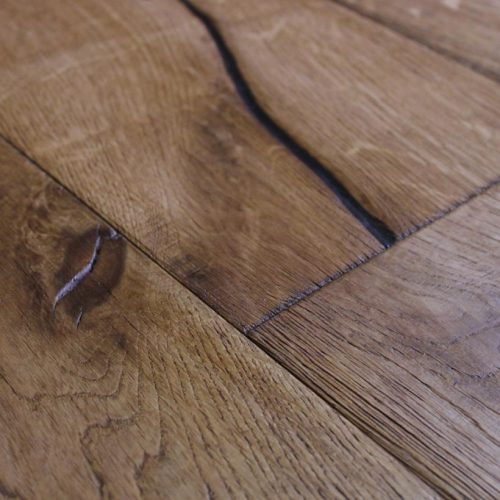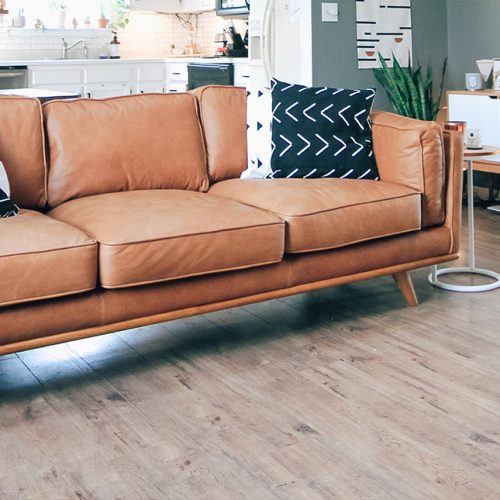 The Benefits Of Distressed Engineered Oak Flooring
Distressed engineered oak flooring can be the most cost-effective way of achieving an authentic "weathered" feel from the wooden floor in your home.
Alternatives such as reclaimed timber boarding can give a similar appearance, but they tend to be vastly more expensive due to the work involved in re-cycling the old boards. The boards would have to be carefully removed from their existing property without damage, transported and then sorted. This process takes time and can be costly.
In addition, reclaimed flooring is not recommended to be used over underfloor heating or in areas with potentially higher changes in temperature and humidity as it's much less stable. Another method which people used in the past to obtain this type of look was to employ a specialist to come to site and 'distress' the flooring by hand once its laid. For centuries, homeowners have needed someone to come in and manually 'distress' their flooring, if they desire a weathered feel. Nowadays though, factory techniques are just as good – and hugely cheaper.
Another great advantages of a distressed board is that it's designed to look worn and weathered. With its blemishes, textured grain and rough edges, it disguises any scratching, scuffs or damage that you may accidently cause to the floor when it's down. A distressed floor can hide a variety of issues, and make it look like they were intended all along!
If you're looking for a beautiful distressed wooden floor for your home, take a look at this example from our Lundy range of unique and textured wooden floors.