what's covered in this article
Key Points
So you've decided on wooden flooring to give your home a makeover – great! The next step is deciding on the type of board you're going to lay, and which direction you will run them through the room(s). This decision often comes down to personal preference however there certainly are some key factors that you need to consider before making your final decision. In this article we cover:
Subfloors – What you're laying your flooring on may determine the direction you must lay your boards.
Practicality – There are some practical reasons you should run flooring a specific way depending on the size of your room.
Appearance – There are some "unwritten rules" in regards to which direction looks best.
Read on to find out more…….
To view our Engineered Wood Flooring range click here
To View our LVT & Durable Wood Flooring Alternatives click here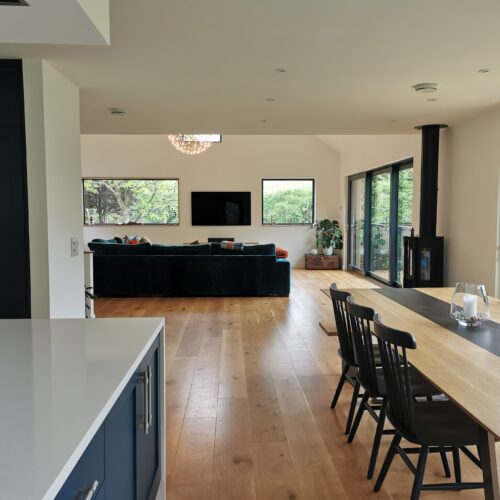 what your flooring is to be laid on can determine which way to lay floorboards
subfloors
Joists
If your new wooden boards are having to span floor joists, then the boards would have to run in the opposite direction to the joists. This is to make sure that the flooring is adequately supported, and safe for use. If you would prefer the flooring to run in the same direction as the joists then you would first need to fit a structural subfloor such as chipboard or plywood. Once the subfloor has been laid then your new flooring can be laid any direction you choose.
Existing Timber Floorboards
If you already have a wooden flooring in your property that you intend to lay a new flooring over, then the first thing to check is to whether your existing floor is solid and flat. Providing this is the case then you can simply secret nail or secret screw your new engineered wood flooring directly to the existing floor. When doing so, it's recommended that you fix the new floor boards in the opposite direction to the existing boards. This way, any movement that occurs in the existing flooring, is much less likely to affect your new one.
If would rather lay your new boards in the same direction as your existing flooring then you can remove the existing floor and replace it with a new structural floorboard (see "Joists" section above). Alternatively you can 'float' the new flooring using an underlay such as Elastilon self-adhesive underlay. When using Elastilon your new floorboards stick to the underlay itself but the Elastilon underlay does not stick down to the existing boards, hence the term 'floating'. As the two floors are not fixed together they can move within their own right, which allows you to lay the new flooring in the direction of your choice.
Plywood and Concrete
When laying a floor over a solid surface such as plywood or concrete you haven't got any restrictions as to which direction to lay your boards and it's purely down to which way would visually look best. What looks best? More on this below.
is there a better / more practical direction to lay the floorboards?
practicality
When laying any wooden flooring it is recommended that additional expansion gaps are allowed for if, across the width of your floorboards, your room exceeds 7.5 metres. To be clear, we're not referring to the size of room along the length of the board, we're referring to the width. For example – across the 220mm on a board that was 220mm wide x 2200mm long.
Because of this, the dimensions of your room may play a part in determining which way to lay floorboards. For example is your room was 10m x 5m it would be recommended that the boards run along the 10m, rather than across the 10m. Alternatively you could allow for additional expansion gaps but we would suggest you contact us first to discuss the best way to do this.
what looks best?
appearance
Assuming none of the practical and/or subfloor factors above determine which way to lay your floorboards then it comes down to what will look best and generally there isn't a simple right or wrong here. There are however some common guidelines that many choose to follow…
Along the length of the room – Generally speaking we find that most customers consider that floorboards looks better ran along the length of a room, rather than across the width of the room. This is particularly common in rooms which are much longer than they are wide, such as hallways.
Into the natural light – Some consider that flooring looks best when it's ran into the natural light source.
Running away from you as you enter the room – Having the boards running away from you as you walk into a room / space is considered more aesthetically pleasing by some.
How do you achieve all 3 of the above? – The simple answer is, you often can't. Sometimes these visual considerations are talked about as if they're gospel and imperative to have your floor "look right".  Our opinion is that this is nonsense – if you can't, or don't want to, achieve the above then it really doesn't matter. The most important thing is that you love your floor and how it looks in your property. In the 12 years (at the time of writting this article) I have been in the flooring industry, not once have I ever had a single customer come back to us after their flooring was laid and say "I wish we laid it in the opposite direction".
You can't achieve all 3 of the above, so what should you do? – First of all, dont be afraid to follow your gut feeling. If your flooring is being laid in a property you've lived in for some time then no one knows your home better than you. If you have a gut feeling as to which will look best then don't be afraid to follow it. We would also recommend that you first consider whether or not you have a 'feature room' – a room which you want to have the wow factor. Perhaps prioritise this room and accept that the planks in an adjoining room(s) will run in a less desirable direction. Alternatively if you have more than one room and feel strongly that the boards would look best running one way in a certain room and the opposite way in another then you can have a threshold in a doorway and change direction. Lastly, you can lay the boards on a diagonal – this is not common and is an acquired taste but can be a way of finalising the head scratching decision.
We hope this article may have been some help in deciding which way to lay floorboards. Should you wish to discuss your project please do not hesitate to call us today and as a family run business we would be happy to help.