introduction
Some will say a house is never quite a home without pets. Whether you're a cat person, a dog person, or have embraced the slightly more eccentric side of pet ownership, choosing the right flooring for your pets can be tricky.
On the one hand you want your home to be comfortable and stylish for both you and your furry friends. On the other, you also need it to be easy to clean and maintain.
There are a lot of options out there, so to demystify the subject a little here is our guide to choosing the best high quality flooring options for your pets…
Traditional Carpet And Carpet Tiles
For a long time the go-to choice for home flooring has been carpet, or carpet tiles. It's cosy, warm, and offers a comfortable surface to walk on and place to sit – perfect for you, your children, and of course your four-legged friends.
And yet, carpet comes with a lot of potential problems for pet owners. Pet nails can snag in the loops of the carpet fabric and carpet is very prone to wear and tear and staining. Not to mention that a naughty cat can scratch and damage a carpet. Carlos, my ginger Tom Cat will vouch for this!
Beyond that you're likely to accumulate a soft sheen of pet hair very quickly, particularly if you have cats or dogs, and it can be very difficult to clean. Hair quickly gets trodden into the pile of your carpet, and even a high-powered hoover can struggle to remove it all.
So while carpet offers a soft flooring option that's easily replaced and comes in many colour options, it's not the most practical flooring for pet owners.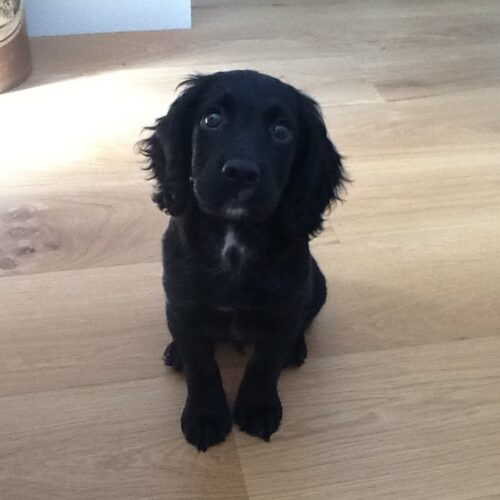 Tried And Tested Luxury Vinyl Tile (LVT) Flooring
Far more practical and equally popular to carpet is a luxury vinyl tile (LVT) flooring. In many ways this is a strong choice for pet owners as it's extremely easy to clean, durable and affordable to purchase. A wide range of designs offers lots of style choices, and it's quick and easy to install. A well made Vinyl also provides a quiet surface to walk on that's resistant to both scratches and stains, while being friendly to allergy sufferers as it doesn't retain hair.
Modern high quality LVT floors can also be very realistic in their appearance. Take a look at our LVT Flooring range and you will see that the boards emulate the natural beauty and characteristic of real wooden floor and also come with a slightly textured finish which further increases their realism.
Timeless Solid Or Engineered Wood Flooring
Hardwood flooring provides a classic, timeless look that's considerably easier to clean than carpet, and offers a more luxurious, cosy finish and feel than either vinyl or laminate flooring.
Where pets are concerned it's slightly more prone to staining and scratching than vinyl, however with the right finish and proper care this shouldn't be an issue. Opting for an engineered oak wood floor will give you and your pets all the benefits of an easily cleaned floor that's comfortable and safe to walk on, and much more stable and reliable than a solid wooden floor.
Engineered wood flooring comes in a wide range of textures, colours, and finishes, and are easily treated with stain and scratch-resistant coatings to maximise the benefits for pet owners.