What's covered in this article
Key points
Keeping your home looking clean and tidy is a challenge in itself, let alone when you have a canine or feline friend to keep your eyes on! If you're interested in hardwood flooring being laid in your home, but have worries about the increased chance of damage your pet could cause, then you may find this article helpful where we cover tips which in choosing the best wood flooring for pets. Key points include:
– Hardwood over softwood
– Choosing a finish that is both beautiful and perfect for a pet populated home.
– Keep pet claws trimmed
– The floor will get wet, but try to keep it to a minimum and be cautious of wet pet beds
– Maintenance information
Read on to find out more….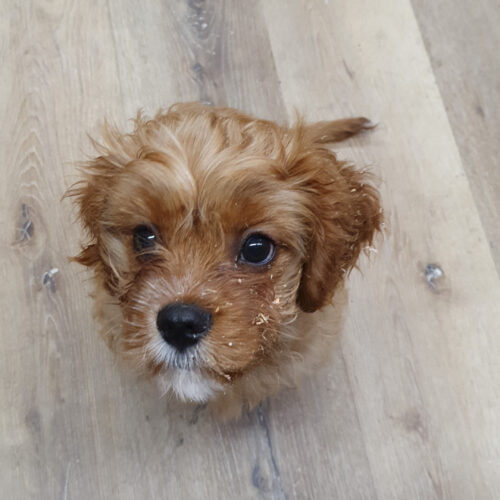 Hardwood over softwood
One of the first things to consider when choosing the best wood flooring for pets is the species of timber you choose. Investing in hardwood flooring is a much better option than softwood if you are looking for something long term. Although it may prove to be more expensive to purchase, hardwood will stand up well to the challenges of a pet populated home. Oak is a durable hardwood and any of our engineered oak flooring ranges would all be suitable options provided they're treated with a a high quality finish.
Which finish is best for wood flooring with pets
You need to choose a hardwearing finish in order to withstand high traffic from both pets and humans, as you don't want the risk of numerous scratches from shoes, claws and dirty paws. An oiled finish which retains the natural look of the wood will make the scratches seem less apparent as well as looking less tired. A popular finish, which we have been supplying for years, is Treatex Hardwax Oil. Treatex is easy to apply and available in numerous colours and sheen levels. As well as look great, a high quality hardwax oil finish is great for pets thanks to it's water and stain resistance as well as it's ease of maintenance (more on this below).
Lacquered finishes can be hardwearing and easy to clean from the dirt brought in by our hairy loved ones. However a gloss lacquered finish will show marks and scratches more so than a matt oiled finish. It's also much more difficult to replenish a lacquered finish when scratches and marks occur in comparison to a hardwax oil as described above.
Keeping claws trimmed
As you've probably found out, dogs and cats claws certainly aren't soft.  A high quality finish would not mark easily but long sharp claws and/or a big dog may result in surface scratches. By giving your pets claws a little trim you allow them to move about easier across hard floors and reduce the chance of scratch marks they can cause. Make sure you seek professional advice on how to do this though, as you don't want to pierce the sensitive part of the nail. Chew toys and heavy bones can also end up being sharp objects that are flung about the room by your excited pooch, so try and keep this in mind when he or she fancies a chomp!
Try and keep your flooring dry(ish)
Wiping their feet isn't something dogs tend to do naturally, nor unfortunately are they able to towel dry themselves for their owners. If your dog comes in wet it's advisable to give them a dry down, or have them dry off in their bed, before they lie on the floor. It is also important to check underneath a wet dog bed as if the bed is getting wet through you do not want to have this water sat on the surface of the floor for prolonged periods. With a high quality finish this will not immediately damage the floor however in time it will certainly start to take it's toll. A plastic dog bed (with a comfy soft bed / cushion inside of course) is a good way of ensuring the damp doesn't get down to surface of your wooden floor.
On a similar topic, pets are likely to have little accidents here and there. Dogs wee is typically acidic and this is not good for wooden surfaces. Make sure you act with speed and mop up the puddle as soon as the deed is done as urine can cause deep staining and decolourisation which can prove difficult to remove.
Maintenance – Mopping, vacuuming and sweeping
A hardwood floor, treated with the right finish, is a very practical flooring solution that should be easy to clean and maintain – even in the company of our fury friends! Most of our customers will tend to find that hoovering or sweeping are simple ways of getting rid of stray fur, dust and paw-dirt that just sits on the top of your floor. A whip round with a brush or flat headed dry mop is quick and easy to do and this should be done as often as needed to keep the flooring clean and free from debris which could scratch the surface.
Mopping wood flooring is not a daily task however as every pet owners will know all to well pets do bring in all sorts and the floor needing a good clean is inevitable. Many wood finishes come with a recommended cleaning product that's suitable for that specific finish. Earlier on this article we mentioned Treatex and Treatex supply a product called Treatex Floor Care. Floor Care is an effective and simple to use maintenance product that you can purchase to help keep your floor finish as healthy as possible without making it slippery. You simply mix Floor Care in with water and clean you floor using a mop (ensuring the mop is only damp and never wet). The Floor Care contains carnauba wax and vegetable oils which give a replenishing coat to your hardwax oiled finish. It's also solvent free and has a neutral PH whereas other cleaning products can contain detergents that can do harm to your floor.
When your hardwax oiled floor gets to the stage where it needs more than just a clean you can re-treat the floor using the hardwax oil again. However a floor that's well maintained (which isn't difficult) should last years before more Hardwax oil is required.
Still not convinced? Have you considered LVT Flooring
There is no question that you can have pets and still enjoy the beauty, charm and practicality that an engineered wood floor can provide. However even with the highest quality of finish, an engineered wooden floor is still wood and over time wear in tear is inevitable. If you're looking for a floor which looks like wood, but has higher levels of durability and water resistance, then we stock a range of durable wood flooring alternatives such as LVT (luxury vinyl tile). These boards are affordable, easy to install and incredibly practical for pets thanks to their water proof and hard wearing top surface. You can view our range of LVT & Durable Wood Flooring Alternatives here.
Conclusion
A hardwood floor can be one of the most practical floors you can choose but the right finish, with the right maintenance, is key. By choosing a high quality finish and being aware of the points mentioned above, you can have a beautiful wooden floor for you and your pets to enjoy for decades.
If you are interested in purchasing engineered floorboards but would like to know more before you make any decisions please do not hesitate to get in contact with us here at JF Joinery and JFJ Wood Flooring.