advantages and disadvantages
Why use Walnut Wood Flooring
When you are planning your new floor you have many decisions to make, but let's assume you have already made the choice of laying engineered hardwood flooring for a timeless, long-lasting, beautiful effect, then the next decision is what type of hardwood to use. The majority will probably select the more affordable and versatile choice of oak, but a few will consider the rarer and more exotic sultry beauty of American Black Walnut wood flooring. Black American walnut is rather less common than oak but this scarcity makes it rather more of an investment and, as such, you will want to have good reason to select it. So let's look at some of the advantages of walnut wood flooring.
what makes it special
advantages of walnut wood flooring
The most obvious, and indeed visible, advantage of walnut wood flooring is its beautiful appearance. Walnut has a very varied grain both in terms of pattern and also of colour. The colour of the grain ranges from creamy, through café-au-lait, to deep brown and red tones. The grain can vary hugely too; sometimes fairly straight, in other places wavy, or frequently swirly with noticeable differences in the width of the colour bands. As such, walnut is more or less impossible to replicate well, and so there is little danger of anyone mistaking your floor for a laminate or LVT. The rich warm tones of walnut make it ideal for a larger room where you desire a hint of opulence from the ground up, for example a living room or master bedroom. Don't forget that engineered wood flooring can be laid over underfloor heating, so you can have the benefit of luxury wood flooring and still enjoy warmth underfoot on cold winter mornings.
Due to their construction, our engineered walnut floors are very stable and reliable. The boards have a multi-laminate plywood under-core topped off with a solid, single strip, walnut wear layer. Although it's never recommended that any wood flooring is laid in a damp environment this high spec construction has proved itself to be very resilient to moisture for our customers in the past. In fact, we had some interesting customer feedback from a lady who's property flooded over her walnut flooring in her utility room. You can read about it here.)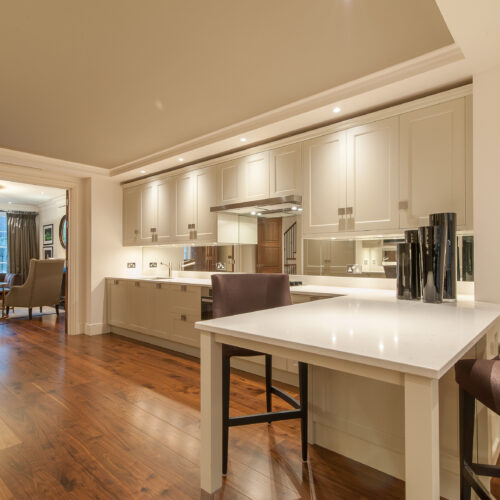 factors to consider
The disadvantages of walnut flooring
All flooring choices come with their own sets of both advantages and disadvantages and Walnut flooring is no different. One of the more obvious factors to consider is it's price. Being a rarer timber than other popular alternatives such as Oak, Walnut flooring does come with a more premium price tag.
Walnut is a hardwood and as such is still considered a durable timber to use when compared to softwood floors. This being said Walnut is softer than European Oak and like most dark floors it will show damage more. For these reasons it could be important that you consider where the flooring is to be laid and your personal preferences. If you like the appearance of the new perfect walnut boards then it could be said that it's better to limit the use to rooms which have less chance of scratches and damage. If however you're someone who doesn't mind your flooring to age over the years, then this may not be as much of a concern. It's also worth keeping in mind that with a high quality engineered walnut floorboard you will have at least 4mm of solid walnut on the top surface. This can be sanded back and refinished numerous times removing any signs of wear and tear. Like with any real wood flooring limiting damage is always preferable. Socks, slippers, clean shoes and bare feet will not scratch your wooden flooring but legs / feet of furniture certainly can. We always recommend you invest in soft pads for the bottom of furniture as this simple step can make a big difference in the prevention of scratches and scuffs.
Lastly, all timbers will naturally change colour from UV rays and Walnut "bleaches" and goes paler when exposed to the light. This is a natural feature of wood and perhaps not a "disadvantage" as such – but a factor to consider nonetheless.
conclusion
In summary, walnut has its pros and cons just like any flooring option. The advantages of walnut flooring lie in its beauty and character which is impossible to replicate. There is no question as to whether or not walnut flooring has the "wow factor". Yes, it has some disadvantages and factors to consider when compared to other hardwoods such as European Oak, however most of the disadvantages are only relevant to certain rooms, settings and personal preferences.
If you'd like to discuss your individual project and whether or not a high quality walnut floorboard will be right for you, then please dont hesitate to contact us today. We're a family run and customer focused business that would be happy to help.