Laminate v Engineered Wood
introduction
In today's flooring industry, there are a number of flooring options to choose from and one common misconception is that engineered wood flooring and laminate wood flooring are the same. Engineered wood flooring and laminate flooring are in fact constructed completely differently, this results in differences in cost, life expectancy, appearance and maintenance regimes.
differences in structure & appearance
Laminate vs Engineered Wood
An Engineered wood floor is an 'engineered' product made from 100% natural materials (wood). A quality engineered wood board would be made up of solid piece of real wood adhered to a plywood under core. The plywood section of the board is made up of multiple layers of timber, each stuck in opposing directions to one another which gives the boards a large amount of strength and stability. The thickness of the top layer of solid wood is commonly known as the 'wear layer' and it is this wear layer that gives an engineered wood floor the look and feel exactly the same as a traditional solid wooden floor (you're looking at the same timber on the surface). Due to the ply wood construction that lies beneath the wear layer, you have the visual effect of a solid wooden floor but with much less chance of expansion and contraction. To summarise – an engineered wood floor will look just the same as solid, but be much more stable and reliable.
A laminate floor is a product constructed from synthetic materials made from various layers that are laminated together. The core of a laminate floor is often a fibre board material that is topped with a textured image that replicates real wood. Upon closer inspection the difference between this imprinted image and the real wood veneer on an engineered product can be quite apparent. A laminate product has pre-designed patterns that will re-occur throughout the floor compared the uniqueness of real wood with no two boards ever looking the same.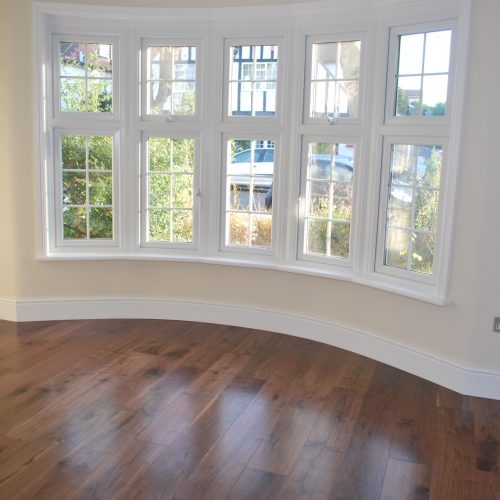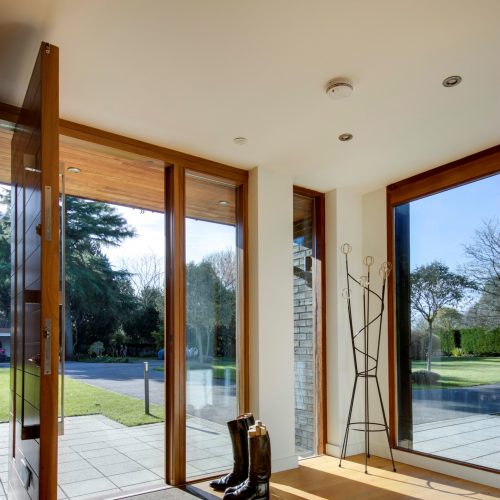 Wood v Laminate
Life expectancy
There are also important differences to consider in life expectancy and maintenance. Both options are easy to clean by simply using the relevant cleaning products from time to time, but the real difference comes to light when surface scratches or damage occur. Although the finish of a laminate floor can be hardwearing, after time the floor will begin to show wear and tear from things like furniture, animals and general usage. This damage is impossible to repair and there is no effective way of treating or replenishing the finish, eventually the entire floor will have to be replaced. A quality engineered wooden floor on the other hand has the real wood top layer which, once the finish becomes worn, can be replenished multiple times in the form of re-treating and / or sanding. The engineered hardwood floors which are easiest to maintain are those of which are treated with a high quality and reputable finish such as Treatex. This type of high quality treatment is not only durable, water / stain resistant and long lasting – it is also easy to clean and maintain using their simple to use especially formulated cleaning products such as Treatex Floor Care.
In terms of overall life expectancy, a laminate floor is said to be last around 10-20 years. A good quality engineered product with a high quality finish would last much longer given the ability to re-sand / re-finish. You may also choose to sand a wooden flooring back and treat it with a different coloured treatment next time round too which also makes it a timeless material to use. These factors should be kept in mind when comparing costs.
the alternative
Luxury Vinyl Tiles
If the ease of fitting and lower price tag of laminate flooring appeals to you, but you want something more durable and longer term, then Luxury Vinyl Tiles (LVT) should definitely be considered. Take a look at our article "Laminate, LVT, Engineered Wood or Solid" which discusses these options further. In short, an LVT will be one of the most durable flooring options, very resistant to moisture (perfect for bathrooms and kitchens), is extremely practical, has an authentic feel and is very long lasting. It's also just as easy, if not easier, to install the laminate.
friendly family business
contact us
As always, if you have any questions in regards to engineered wood flooring we are here to help. Being a family business we pride ourselves on the products we supply and the service we offer. So give us a call today and we can discuss the best type of wooden floor to suit your tastes and requirements.
Tel: 01598 740197
Email: info@jfjwoodflooring.co.uk