With so many grades, wood species, colours, complicated specifications and choices of finish, choosing the right range for the best engineered wood flooring for your home can be a daunting task. Here at JFJ, our many years of experience in the wood flooring industry has taught us how to help customers quickly and effectively choose the board that best suits their needs judging by their tastes and their property. In this article, we've put together a top 5 tips to consider when purchasing engineered wood flooring.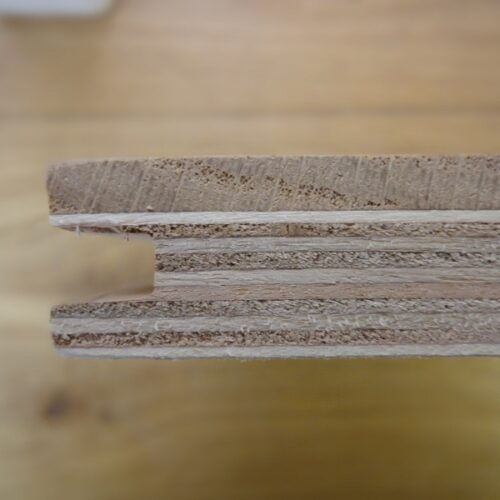 What makes for the best engineered wood flooring?
Wear Layer
A quality engineered wood flooring is constructed of multiple layers that are stacked in a cross structure. It is this structure that gives the best engineered wood flooring its strength and durability. The top layer of the board is commonly known as the 'Wear layer' and is 100% solid hardwood. You can find some cheaper ranges where this layer is made up of a number of strips of wood, however if you are looking for a traditional and quality looking board then we would suggest choosing a 'single strip' wear layer which is made up of one section of timber. When comparing boards, you will see that the wear layer differs in thickness between ranges. The thicker the wear layer the more times the board can be sanded back in years to come and the longer the life expectancy. Here at JFJ Wood Flooring, we stock a variety of wear layer thicknesses – the thinnest have a wear layer of 3mm, and our thickest 'Supreme' range has a wear layer depth of 6mm which can last just as long as a solid wood board!
If this is a subject you want more specific details on then you can read our "Wear Layer – All you need to know" article here.
Under-core
The under-core is the term used for what lies beneath the oak and although it's something you are never going to see, it is still one of the most important factors to consider and definitely makes it into our top 5 tips when purchasing engineered wood flooring. This is the part of the board that determines how stable the engineered wood floorboard is. Under-cores can vary in quality but a high quality board will have what is known as a multi-laminate hardwood ply. Plywood is used extensively in the building trade and is well known for its strength and stability due to its cross layered construction. Many cheaper engineered wood flooring ranges are made up of a 'block board' type under-core (only 1 or 2 layers). This type of engineered board is slightly cheaper but is certainly not as stable and reliable as a multi-laminate ply. Choosing a good quality under-core is particularly important if you intend to install or have installed an underfloor heating system, or are laying the boards in an area that is prone to changes in heat or humidity. Choose a board with a plywood core as their strong cross-layered structure will make the boards far less prone to swelling or shrinking.
Dimensions
Next in our list of tips when purchasing engineered wood flooring is dimensions. Engineered wood floor boards come in a wide range of lengths and widths, all of which create different effects when fitted. There is neither 'right' nor 'wrong' when choosing a board with the dimensions that will suit your property, it is purely personal preference, but there are a couple of factors worth considering. Shorter and narrower floorboards are always cheaper to purchase and can often be a way in which to save money without cutting back on the overall quality of the board itself.
Some also consider a narrower shorter board to have a more traditional and less contemporary feel to them and therefore can be more suited to certain types of property. However this again is very much down to personal tastes.
Wider and longer boards on the other hand will always be that little bit more expensive but are quicker and arguably easier to fit. This is an important factor to consider when pricing up your job and assessing the best engineered wood flooring for the use case. Also long and wide floorboards will show off more of the natural decorative grain that is featured in timber before breaking that grain when joining up to another board. Because of this many consider them that bit more attractive in appearance.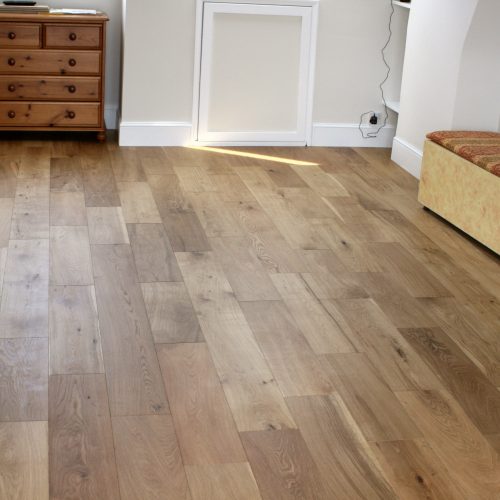 Finish
The last (but most certainly not least) in our top tips when purchasing engineered wood flooring is finish. Finish is what gives your floor it's practicality, stain resistance, water resistance, durability and ease of maintenance – all of which can be key to ensuring your flooring suits your rooms and lifestyle.
When purchasing engineered oak flooring, you can either buy your boards pre-treated (i.e. finished at the factory with certain oils or lacquers), or untreated, which allows to you to treat your boards onsite with a finish that you choose to suit your needs.
Below, we've summarised the benefits and draw-backs of each:
Benefits of pre-treated boards:
Pre-treated boards are to a great extent protected from damage from the moment they come out of the box.
You do not have to further treat the board if you wish not to, they can often simply be laid and left as they are.
Potential draw-backs of pre-treated boards:
In any natural timber floor, even the very best engineered wood flooring, you will get variation from board to board and sample to sample thus making the decision making process more difficult. It has been known for for people to make decisions based on the specific colour and finish of the individual sample they have only to realise that the overall floor is not quite as they expected.
From experience we are yet to find a factory applied finish that is as good as some of the treatments that can be applied on site once the boards have been laid. Although there are pre-treated boards where additional oils can still be applied, some can prevent you from using any further treatments. Before making your decision consider how hard wearing the finish is, how stain resistant it is and easy the finish is to maintain. All very important factors to consider that will benefit you long term.
Benefits of untreated boards:
With an untreated board you choose the oils or lacquers that will achieve the correct colour and level of protection to suit your property. The final result is not pre-determined by a factory finish and will be exactly as you want it.
We feel that custom selected, hand-applied treatments can achieve the highest levels of protection as you have total control over what treatments are used – which makes them our choice for protecting the best engineered wood flooring. Many quality oils also come with maintenance products that can make the finish of the board last much longer.
Potential draw-backs of untreated boards
Put simply – it has to be done on site. Treating an untreated board does have to be done on site, usually after the flooring is installed. This is of course an extra job to do and you must keep off the floor as it's being treated and drying.
It is easier to mark an untreated board, however this is hugely dependant on how you handle the floor while / directly after it's being fitted. Use the floor with care, keep mud and dirt out the room and temporarily cover the boards if necessary and you won't have any problems.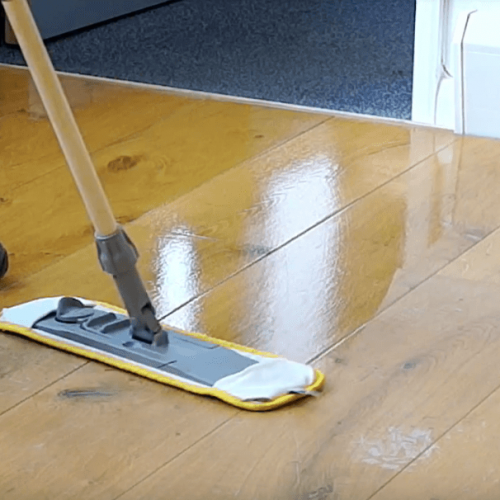 Maintenance
If you use a high quality treatment such as Treatex Hardwax oil your floor will be much easier to maintain and look after. This high quality, tried and tested product will not only help to protect the boards from scratches, scuffs and stains, it will also enhance the natural features of your real wood flooring – making even the best engineered wood flooring look even better.
Real wood will naturally fall victim to scuffs and scratches and nothing can prevent this 100%, but Treatex have a number of maintenance products to help you replenish any imperfections that may be caused to your floor over the years.
This is a far better way to go than many other types of treatment that are very difficult to maintain once marked in any way. Treatex is also very stain and water resistant making it the perfect treatment for areas such as the kitchen, bathroom, dining room etc. Here at JFJ we stock Treatex products and are more than happy to and offer advice about how best to apply the treatments.
More Information on Wood Floor Finishes and Choices:
Now that you have read our top 5 tips for wood flooring considerations, read some more guides to helping you choose the right finish, the perfect treatment and advice on colours to finish your wood floor to perfection.
What makes us qualified to comment on the best engineered wood flooring?
A good question! Check out the quick video below to see who we are and what we do. With over 100 years in the timber industry, we know a thing about the best engineered wood flooring…