How to Build a Modern Kitchen Using Wood Flooring .
Whether you are the sort of person who takes pleasure from the culinary arts, baking fresh bread, piping butter icing into flowers, and slicing fresh vegetables, or you just want to open a ready meal chuck it in the oven and open a bottle of wine, the one thing that nearly everyone can agree on is that the kitchen should be a stylish and efficient workplace where you can find everything you need quickly and with plenty of clean clear workspace to get on and do the job. And although engineered oak flooring may not provide you with ample cupboard space or the latest in built-in appliances, there can be no doubt that the right luxury modern engineered oak surface underfoot is an ideal starting point for the modern kitchen.
Why engineered oak flooring?
The best projects are built on solid foundations and in the case of your new kitchen this could not be more true. If you're considering a quality hardwood floor that will offer warmth, beauty and character to the room then you will also want a hardwood floor that's reliable and practical and these benefits will come in the form of a modern engineered oak.
Expansion and contraction of a real wooden floor has always been a factor to consider. Wood is a porous material that can absorb moisture causing it to move and in an area such as a kitchen, where temperature and humidity may fluctuate more so than other rooms of the home, this can often be concerning. When boards contract (shrink) gaps can open up between joints which can be particularly frustrating in a kitchen area with the risk of food and dirt getting trapped between the joints. However a high quality engineered oak floor is far more stable and reliable than a traditional solid wood floor and this is due to its construction. A high spec engineered oak floorboard is constructed of a top layer of solid oak and beneath this a multi-laminate plywood core. Each layer within the plywood is stuck in opposite directions to one another which creates a cross layer construction providing the boards with the high levels of strength and stability, thus much better suited for a kitchen.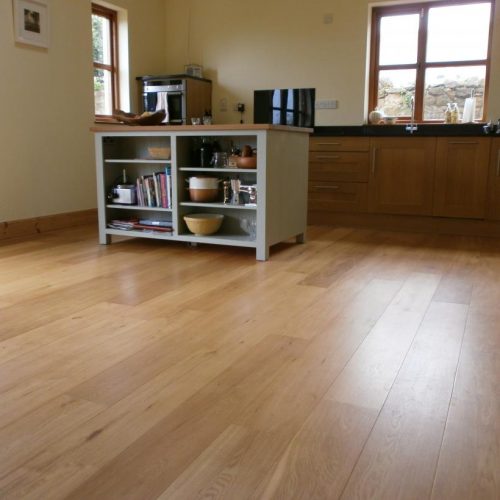 So What are the Advantages of Modern Engineered Oak?
Modern engineered oak flooring is, as previously mentioned, made from several layers of offset-ply real hardwoods. Typically the boards are around 14mm – 21mm thick with 3mm – 6mm of this being the wear layer. In the case of engineered oak flooring that layer would of course be real solid oak and can be available in a variety of finishes according to your tastes and requirements.
We have other articles on our website relating to the many different types of finishes available for your floor however a finish such as Treatex hardwax oil is easy to apply, durable, stain resistant, easy to clean and available in a number of different finishes. We have had years of experience using this finish in kitchen areas and would highly recommend looking into it. Being a natural material, wood benefits from the variety of non-repeating grain patterns which are pleasing to the eye. A real wooden floor cannot ever be truly replicated by laminate or vinyl and if you're looking for that real authentic look it's the only way to go. Also due to the fact that an engineered wood floor has a real solid wear layer on its surface it allows the floor to be resanded / refinished if/when required in years to come giving an exceptionally long overall life expectancy to the floor.
Modern engineered oak flooring can also be laid directly over underfloor heating which, in a kitchen is a positive boon. Waking up and making the first cup of tea or coffee on cold mornings is a whole lot more appealing when your beautiful polished oak floor is also warm underfoot.