Is Engineered Wood Flooring warm and can I fit underfloor heating underneath?
A common concern that people have when looking to buy wood flooring is about the warmth of the boards underfoot. We'll never dispute the fact that as a material, carpet can be the warmest underfoot with no underfloor heating. However hard floors win hands down in terms of practicability, longevity and hygiene.  If you have not got underfloor heating, and do not intend to install any, then a wooden floor is the warmest material you can use whilst achieving a practical floor for your home. Engineered Wood Flooring, thanks to it's construction offering higher levels of stability, is also suitable for underfloor heating – more on this below.
Insulate your floor before laying the boards.
Installing insulation to your flooring before fitting your floor boards can help to make your room feel noticeably warmer. Interestingly according to the Energy Saving Trust, fitting insulation under your existing floor boards can save you up to £75 per year, making insulation a wise long term energy saving investment for your home. It can also help to prevent draughts rising through the boards and around areas of skirting, as well as act to lessen the noise of footsteps.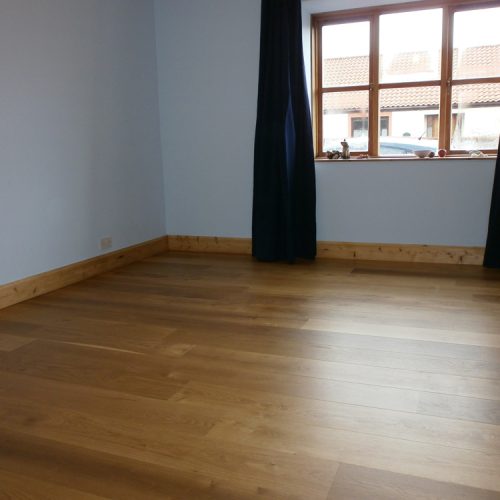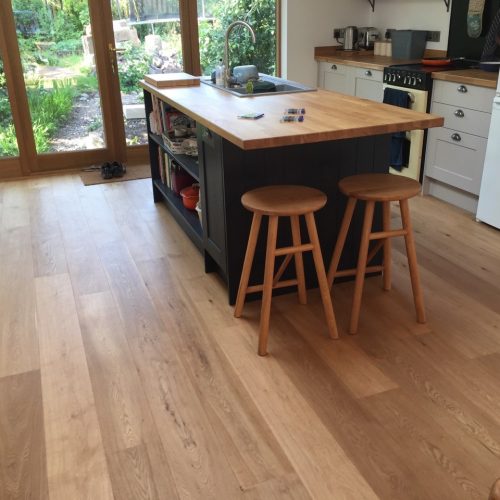 Install Underfloor Heating under your Engineered Wooden Flooring
All of the engineered oak and walnut flooring that we stock are compatible with underfloor heating systems. This is thanks to the high quality hardwood plywood which lies beneath the Oak wear layer. For example our Classic 15mm thick (overall thickness) is made up of a 4mm oak layer and then 11mm of plywood. We have tried and tested our boards to the max – even boiling them! – not once have we experienced any of our boards de-laminating.
Our customers love their underfloor heating systems as they allow your floor to be cool in the summer and warm in the winter – it is flooring for all seasons!
We have supplied thousands of floors over the years to customers with underfloor heating systems. An example of this is Mr.Richardson from the North West of England, he says: "The floor is warm to bare feet anyway but with the insulation and heating the warm up time is quick and the heating effect delightful" Read Mr. Richardson's full testimonial here.