An engineered hardwood floor is a great option for you home. Reliable, versatile, and created from real wood, it's the perfect way to update your interior décor with a warm and cosy feel.
What does 'engineered' mean?
Put simply, an engineered board is made up of more than one solid section of timber.
The top surface of the board, commonly known as the wear layer, is the desired hardwood (oak / walnut) that you will see once the floor is laid. This varies in thickness depending on the spec and overall thickness of the board. Beneath the wear layer is what is often known as the under-core.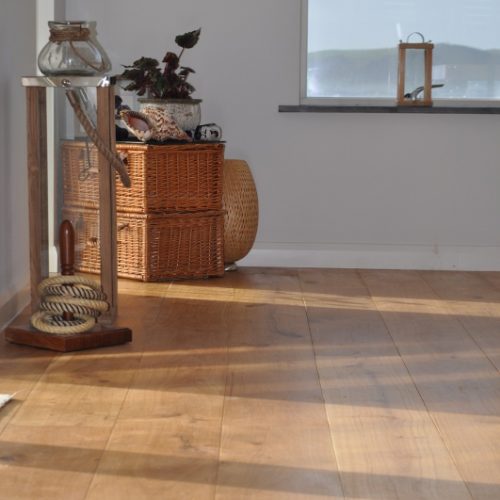 Less Likely To Warp
Engineered wood flooring can vary in quality, but we would always recommend that if you're looking for a high quality, stable and reliable hardwood floor you choose an engineered wooden flooring which has a multi-laminate plywood under-core. This is made up of multiple layers of hardwood, each stuck in opposite directions to one another which makes the board much more stable and far less likely to swell and shrink in comparison to solid.
The clever construction of the boards makes it safer for use in environments that would prove harsh for real wood floors, such as bathrooms and kitchens, which are likely to experience higher levels of temperature and humidity.
Likewise, engineered wood is robust enough to be used above the under-floor heating that is becoming increasingly popular in modern day homes.
The combination of a stunning hardwood top surface and high quality multi-laminate plywood core brings about all the aesthetic benefits of good quality, gorgeous hardwood – which is all the eye sees after installation – along with a reliable, hassle free construction.
There are also a lot of other great features to this type of flooring…..
It Looks Just Like Real Hardwood
Undoubtedly the best thing about engineered wooden flooring is that it looks just like a beautiful solid wood board floor. It's not a laminate!
The timber that is used on the top surface is exactly the same timber that's used in a solid hardwood board and therefore visually you can tell no difference. In fact, some will consider that engineered hardwood flooring has the potential to look nicer due to the varying dimensions available, more on this below.
Wider Boards
When it comes to solid timber flooring, the wider and longer the floorboard, the more they tend to swell and shrink. Contrastingly, engineered wood flooring is much more stable due to its construction as described above. This allows you to go for much larger floorboards with far less worry in terms of movement within the floor.
What's more, the engineering techniques used to create this type of flooring enables the creation of wider floor boards for a cost-effective price. The dimensions of wooden boards is usually dictated by the size of trees from which you cut them. Wide & long boards of a high grade require much larger sections of the tree making wide boards expensive in full solid oak board in comparison to engineered, as well as more difficult to source.
For me, it's a case of personal preference as to what looks best when comparing wide and long vs narrower and short, but one thing that is certain – the time saving when it comes to fitting. Larger floorboards are so much quicker to lay, so you could enjoy a much faster install process with a larger board size.
Tom Fanthorpe, Director @ JFJ Wood Flooring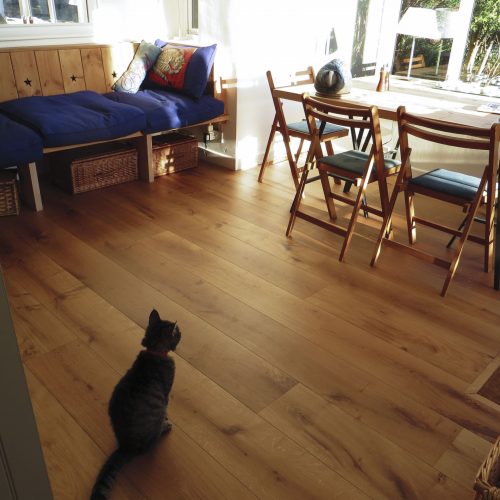 Simple To Install
Due to their stability and accuracy of machining, you also tend to find that engineered boards are much easier to fit in general. Where solid oak boards tend to be a little more challenging (slotting boards together, getting joints tight etc), engineered is much easier to work with.
Whether your floor is being professionally laid or you're planning to indulge in some DIY, there's a distinct benefit to choosing engineered wood flooring over traditional alternatives. You can see our guide to fitting and finishing your engineered wood floor right here.
Extensive Variety
Another great benefit of engineered wooden flooring is the wide range of grades, dimensions, colours, and finishes available. Particularly in oak.
With much more choice on the market, it's generally much easier to find an engineered hardwood flooring that is to your tastes, purpose, design and lifestyle, not to mention your budget!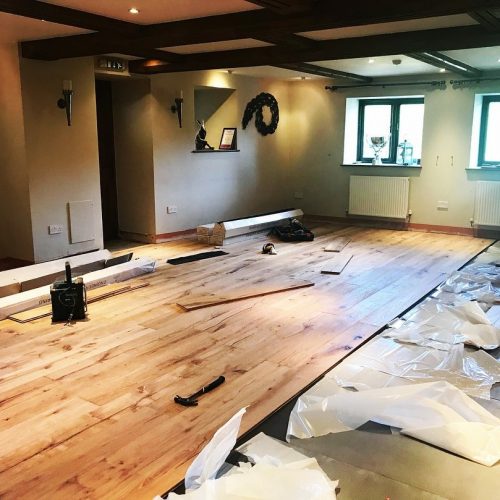 Cost-Effective
While engineered wood looks just like the real thing, it can also be more affordable. Particularly on timbers such as American Black Walnut, which is a more expensive luxurious timber.
Within an engineered board, the majority of the structure is made up of the multi-laminate plywood under-core – meaning that less valuable walnut is used. That makes it both more affordable and more environmentally friendly.
The same often applies with European oak boards, though the European oak is a more affordable timber than Walnut and therefore the price difference is not quite as noticeable. Some engineered oak floorboards will in fact be dearer than solid oak due to their specification, however most tend to be cheaper or similarly priced.
Our family has been in the timber, carpentry and flooring businesses for over 100 years. Over that time, we've evolved the products that we sell and now, we mostly focus on engineered wood flooring. Quite simply, it is unbeatable for the combination of quality, reliability and value for money it provides.
John Fanthorpe, Director @ JFJ Wood Flooring
Sand It Like A Solid Wood Floor
As mentioned earlier in this article, the top layer of wood on your engineered hardwood floor is real wood. Meaning that it can be sanded and re-finished just like a solid wooden floor.
How many times you can sand down your engineered floor will depend on exactly how thick the top layer (lamella / wear layer) of your floor is. If you purchase a floor with a 6mm wear layer, such as our '21mm thick Supreme engineered oak range', then you can sand this floor back just as many times as you could a solid. More info on wear layer can be found in our 'Wear layer- All you need to know' article.
Durability
The durability of an engineered oak floor will be dependent on the quality of finish that has been used to treat the timber. This is the same with engineered as it would be solid because the top layer of wood on an engineered oak board is the same. We have an article dedicated to the question "Is solid oak more durable than engineered?" which can be found here.
If you're looking for the perfect engineered wood floor, take a look at our range of oak and walnut flooring. If you have any questions please do not hesitate to be in touch via phone or email. As a family business, we will always be happy to answer any of your questions.