What's the best grade of wood flooring? The simple answer to this question is – there isn't one.   The Grade of timber refers to the amount of natural features or characteristics that are included within the wood. The more knots, colour variation, sapwood, splits and natural features the 'lower' the grade of oak. For example a Prime grade would be a much cleaner board with less knots and characteristics whereas as Rustic grade would have many more.  It's worth noting that grade and quality are 2 separate things – you could have a very high quality board in terms of its construction, but be a very rustic grade and vice versa. With this in mind there isn't such a thing as a right or wrong when it comes to grading. It's more a case of considering which grade of timber will be most in keeping with your tastes, property and interior design.
Different names – Different meanings – Look for real life examples
Character, Rustic, Natural, Prime, D, C, B, A. These are all grades that can be used to describe the amount of knots and natural features that can be found in your timber floor. But if you're comparing wood floors across different websites then you're likely to end up feeling confused as you often can't find a like for like comparison. That's why we prefer to provide real life examples of our wooden floors, so that you can see a typical appearance of your chosen floor. It's also worth mentioning that on many of our products we offer a "Try a Box". This gives you the option of purchasing 1 box with no delivery charges. Allowing you to lay out numerous planks in your home and decide whether it's right for you.
Filler
There will be some natural features within the timber, such as knots, that require filling during the manufacture of an engineered wood floor. Most engineered wood floorboards on the market are going to include some form of filler and this is something you ought to be aware of. Some fillers stand out more than others, which will exaggerate the knots, whereas other fillers blends more subtly into the surrounding timber. It's worth keeping in mind that samples are only very small pieces of the flooring that you're interested in. The sample you receive may have no knots and no filler, even it is a rustic grade. Because of this we always recommend that this is something you ask about when choosing your floor. As a family business we will always be happy to talk this through with you, direct you to relevant photos if possible and even intentionally send you a knot with filler if requested.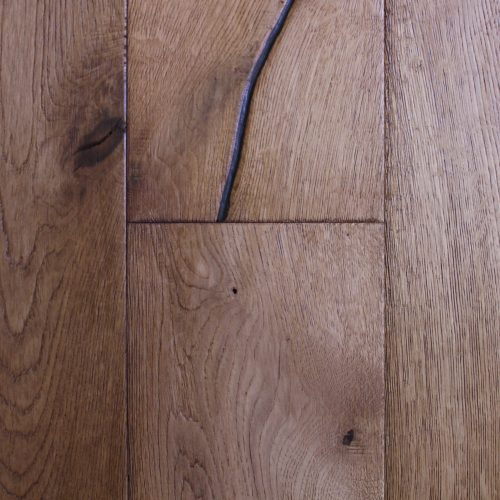 Solution
Choosing the best grade of wood flooring for you can be challenging. Which is why we aim, wherever possible, to show our customers real life photos of our floorboards in situ. Although photos and computer screens have their inaccuracies when it comes to colour genuine photos certainly do a good job of visually showing you the amount of knots, colour variation, sapwood and natural features within the timber. If you're local you would also be more than welcome to come and take a look at the flooring options we have displayed here in our showroom in North Molton, North Devon. For more help choosing an engineered oak floor that's perfect for you and your home have a read of our 5 Key Factors When Purchasing an Engineered Oak Floor article.  To find out more about the wood flooring options we can offer you, or to book an appointment to our showroom, contact us today on 01598 740 197 or email info@jfjwoodflooring.co.uk.