rustic wood flooring - introduction
The word 'rustic' is defined by the Oxford dictionary as something that has "a simplicity and charm that is considered typical of the countryside". In our opinion, there is no better way to achieve this feel within your property than with natural rustic wood flooring.
Hardwood flooring is extremely popular due to its unique appearance and the value it adds to your property. It's easy to clean, luxurious, and can be used to achieve a range of different styles. It's a great way to add a beautiful, dynamic, natural feel to your interior design and is the perfect flooring material to use if you're after that 'rustic' look.
But what exactly does Rustic flooring mean within the timber industry and what is it you need to be looking for when choosing your floor to achieve the desired effect? Read on to learn more.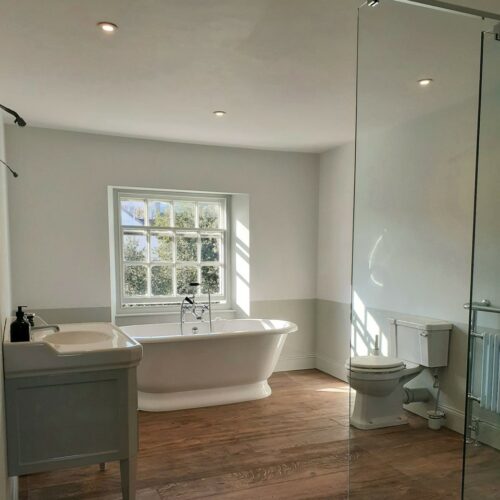 Rustic Grade
When deciding on a wooden floor you will have a choice of 'grades'. What grade a timber is will determined how much character and natural features are present in the floorboards.
Rustic is a grade that will feature more natural characteristics such as knots, sapwood, splits etc than a cleaner grade of timber. With this in mind, one major factor that you want to consider when choosing your floor is which grade best suits your tastes. If you're looking to achieve an older feel with a board that includes more knots and characteristics, then a rustic grade would be the best choice.
Real Wood Chic
"For a true rustic feel, there is no substitute for a real wood floor. An authentic rustic floor is simply not something you can achieve with a wood replica."
– Tom Fanthorpe, Director @ JFJ Wood Flooring
There is no doubt that laminate and vinyl floors have come a long way over the years. With boards available in matt finishes, textured finishes and the like there is more on offer nowadays than the cheap plastically feeling floors of the past.
However, real wood is a natural product that cannot be truly replicated. Every board has its own unique natural grain patterning and charm and if you're looking for an authentic rustic flooring feel then real wood flooring is by far the best choice.
European Oak
European oak is a very popular choice for people looking for rustic wood flooring. As we have previously mentioned oak can be supplied in numerous grades, however European oak as a species is renowned for its character and warmth when compared to other species such as Ash, Pine, American White Oak etc.
In its untreated state, European oak is also a pale timber making it a versatile when it comes to staining. It can be treated with stains and finishes to achieve a vast amount of colours to suit your interior and really perfect that rustic flooring look. Whitewashed, natural golden and rich darker colours are all finishes that can be achieved with European oak. With the appropriate board, any colour of oak flooring can still look rustic however we have found that most people tend to stick to natural (golden oak) or darker finishes when looking to achieve a rustic looking wooden floor.
Distressed Oak Flooring
Distressed oak floors are becoming increasingly popular for the 'rustic' flooring option due to their very rough and rugged appearance. Distressed floors are specifically designed to look like an aged floorboard with splits, large knots and texture.
This weathered appearance of a distressed floor is so coveted that for years people have employed specialists to purposefully 'damage' the surface of their hardwood floors, in order to create that rustic flooring appearance.
This is a labour-intensive way of achieving a rustic finish for your floor – involving the use of rigid wire brushes, sanders and scrapers.
If this is the look you're after then fortunately nowadays you can purchase oak flooring that is supplied distressed, thus saving you the site work. A popular range that we offer to customers looking for distressed board is the Lundy range, more details of which can be found below.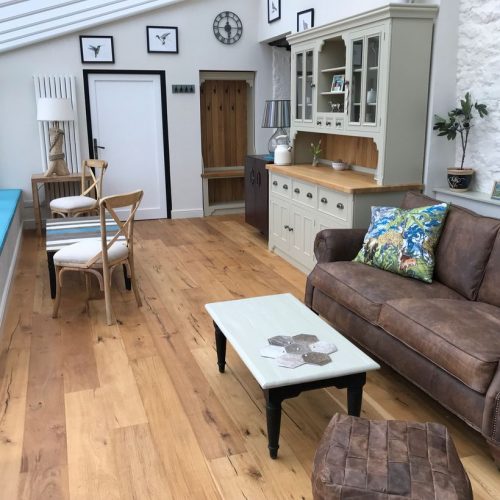 Finish & Texture
Matt finishes (non-shiny) tend to lend themselves better to a more natural rustic look and oils have a more traditional feel to lacquers. More information on the differences, pros and cons of oils and lacquers can be found here.
We would recommend a high-quality matt oiled finish such as Treatex hardwax oil which can, if desired, be used along with different Treatex colour tones to achieve the exact colour of your choice.
As mentioned above, when it comes to colour there is no right or wrong here. You can achieve a rustic floor with the right choice of timber and a clear traditional finish or you stain the timber darker for a richer & warmer feel.
So Which Flooring Is Best For A Rustic Look?
Engineered vs Solid
We have many articles on our website which talk in great detail about engineered oak flooring, its differences to solid oak and the benefits of an engineered board. For more information on this, take a look through the news and articles section on our website.
To summarise these points in brief;
An engineered oak board is constructed of a top layer of real wood. The thickness of this layer is known as the Wear Layer and can vary depending on the spec of the board you choose.
Just like solid oak, an engineered oak board can be supplied in a variety of grades depending on the amount of characteristics you're looking for. It's a common misconception that engineered oak flooring "doesn't look the same". This could not be more incorrect. An engineered oak board can look however you want it to, as the top layer is real oak, just the same timber as a solid oak board.
On a high quality engineered oak board beneath the top layer of oak (the wear layer) you will find a multilaminate hardwood plywood. This is made up of multiple layers of hardwood, each stuck in opposite directions to one another. This construction gives the boards much higher levels of strength and stability.
Due to the stability and reliability of a high spec engineered oak board you can safely purchase long and wide board without running such high risk of movement as you would with a solid oak floor.
The Distressed 'Lundy' Engineered Oak Flooring
The Lundy engineered oak range is the distressed engineered oak option that we offer for any 'rustic flooring' requirement. It comes with a brushed finish, giving it an authentic texture and is a rustic grade with an abundance of knots, split and natural features. It's available in a choice colours, thicknesses and width to suit your tastes and requirements.
The Lundy Range is ideal for achieving that timeless, distinct, knotted appearance while providing all the great benefits of engineered flooring.
Whether you're flooring a country pub, bringing a little warmth to your living room, or looking for a wonderfully welcoming atmosphere in another area of your home or workspace, the Lundy can be the perfect choice.
Get in touch today and we'll find the ideal floor for your needs and budget.