introduction
When it comes to choosing the perfect wooden floor for your home, making a choice as to what's the best finish for wood flooring will always be high up on the priority list. Not only will the finish play a large part in determining the colour and appearance of your floor it's also the key to achieving a floor which is practical for the environment you intend to lay it in. Stain resistance, durability, ease of cleaning and maintenance are all decided by the finish. So which is best?
Like with many things there is not a simple "right or wrong" when it comes to wood flooring finishes. We would suggest you first consider where you intend to lay the flooring. Are these area higher traffic rooms of the house and are they likely to have spills and stains? Also consider how long you intend to being the property for. Are you looking to sell or do you plan on living with the flooring for the long term and therefore need to ensure you consider the easy of cleaning and maintenance.
There is no simple answer as to which is best but please read on to learn more about the pros and cons of different finishes to establish what will work best for you.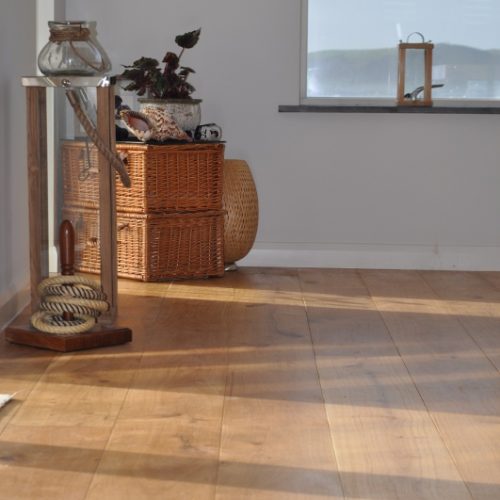 What types of wood floor finishes are available?
Lacquered Wood Flooring
Nowadays, lacquered floors are often heavily promoted. The finish is nearly always factory applied with no work left to be done on site and this can be popular for some because of the short term convenience of laying a 'pre-finished' floor. Lacquers also tend to have high levels of stain resistant and water resistance and can be a good choice for those looking for a pre-treated floors in rooms more prone to water and spills, such as kitchens.
However the disadvantage of a lacquered finish is they are often much more difficult to repair on site when scratches and scuffs appear. Keep in mind, although lacquers can be hard wearing, no finish is scratch proof and in time signs of wear and tear are bound to show. In our experience, sales of lacquered floors are also decreasing due to a perception that they often resemble the shiny, almost fake looking, finish that many cheap laminate floors can have.
So what are the alternatives?
Pre-Treated Oiled Boards
When choosing the best finish for wood flooring, customers are often attracted to pre-oiled boards due to their traditional look. They're also convenient in that they are supplied pre-oiled and arrive with a certain amount of protection from the environment.
Always be aware of what type of oil comes pre-applied to a board as often just a basic natural oil is used that offers lower levels of protection against accidental spills in your home such as red wine, fizzy drinks, beetroot juice etc. Factory applied oils can come in a variety of different colours and finishes, but do always find out the quality of the oil that's used before you purchase your flooring and also establish how you are supposed to maintain the floor once laid. We recommend that you consider the area that the flooring is to be used in. For example, bedrooms tend to get a low amount of traffic and generally it will only be socks, slipper and bear feet walking across the surface. Whereas a room such as the kitchen will get a higher amount of traffic, an uneven amount of wear and also have higher possibilities of spills and stains, increasing the importance of a high quality finish.
Untreated Wood Floors
Wood flooring is also available untreated, such as our Classic 220mm x 15mm engineered oak. That means that no finish (oil, lacquer or otherwise) has been applied to the boards before delivery.
The great benefit of this is that you have full control over the colour and finish and how the floor will end up looking is entirely dependant on what it's treated with on site. This means that by treating on site you not only are sure to achieve a high quality, durable and stain resistant finish you also have the scope to stain the floor to the exact colour you'd like. You may choose to simply treat with a clear traditional finish that will provide a natural light oak colour or you may decide to stain the timber and achieve a white wash of a darker brown, for example. The disadvantage, of course, is that you or a handyman need to apply a finish on site, but with a product like Treatex Hardwax oil (discussed below) this is actually a lot easier than you might think.
What is the best wood floor oil available?
Hardwax oil is a popular choice of floor finish and we have found Treatex to be one of the best Hardwax oils on the market.
We have been dealing with Treatex for a number of years and have found Treatex Hardwax Oil to be one of, if not the best, way to protect your wooden floor. Treatex has been used extensively in both domestic and commercial projects alike and has gained itself a second-to-none reputation throughout the UK, Europe and Australasia.
You can benefit from using Treatex in a number of ways:
ease of application on site
slip resistance
antibacterial properties
beautiful, rich, natural-looking finish
robustness & ease of maintenance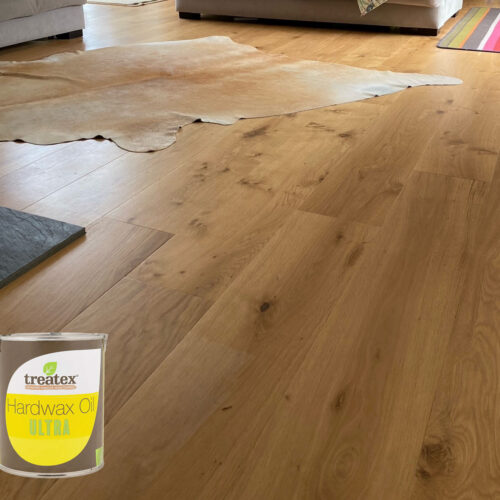 In using Treatex, you create a durable, stain resistant and hard-wearing floor that can stand up to the wear and tear of everyday life. As we've recently discussed in our article on cleaning and maintaining hardwood floors, the secret to longevity is knowing how to clean and maintain a floor. Treatex offers the advantage of needing just a mop with water and the Treatex floor care product – it's as simple as that.
"We've grown to love Treatex not only for their Hardwax oil, but for the support products that go with it. The Floor Care cleaner is so easy to use and, crucially, gently replenishes the finish keeping it healthy for as long as possible. Floors tend to get an uneven amount of traffic and a product such as floor care replenishes the areas of the floor that start to become hungry for more oil such as doorways or around workstations."
Tom Fanthorpe, Director @ JFJ Wood Flooring
Coloured wood floor oils
Have a particular colour in mind? Treatex supply a wide range of colour tones that can even be mixed to create the exact colour you are after. From the rich 'Dark Oak' finish to the more contemporary lighter 'Pebble Grey' or 'Spruce' (white). Treatex have almost all bases covered.
best finish for wood flooring
conclusion
To conclude, we would ask you to think about what you want from your floor. If you are looking to achieve a specific colour, yet want a hard wearing, stain resistant and easy to maintain floor, then we would suggest considering Treatex Hardwax oil and, if you wish, take advantage of their range of colours and finishes.
You can see within our range of engineered oak floors here that we have a number boards available. Some of which come pre-oiled, some lacquered and some unfinished. It's very often a good option to speak to us about your requirements and what it is you're looking for. We are a family business and are always here to help and give you advice. If you have any questions at all, please call us today and we will be happy to discuss you flooring requirements – 01598 740 197
More Information on Wood Flooring Finishes
Before you go ahead with your chosen treatment, feel free to delve into our articles relating to wood flooring finishes, from top-tips to avoiding the orange effect.
And one more, here's a link to the full range of Treatex colours that we stock.