best flooring for allergies
wood flooring
Allergy sufferers often have it rough. With the majority of people spending as much as 90% of their time indoors, it's important to make your work and living space as allergy-friendly as possible.
Carpets are not your friends when it comes to combating allergens. They attract dirt, dust, pet (and human!) hairs, tiny little critters, pollen and all manner of things that will trigger allergic reactions. If you're an allergy sufferer or have asthma, the type of flooring throughout your home and working environment can make a huge difference.
Particles of numerous troublesome materials cause allergic reactions, and are extremely small. They work themselves into the weave and fibres of carpets and rugs, and once ensconced, there's no getting rid of them.
"As a child I suffered badly from asthma. I grew up around pets but never suffered at home with wooden floors half as much as I did at friends' houses where they had carpets. Of course hoovering helps, but it's very difficult to make a carpet entirely allergen free simply by hoovering alone. Wooden floors are much easier to keep clean and do not collect animal hair and other allergens like carpets making them a much more practical floor for those who suffer with allergies." 
– Tom Fanthorpe, Wood Flooring Specialist @ JFJ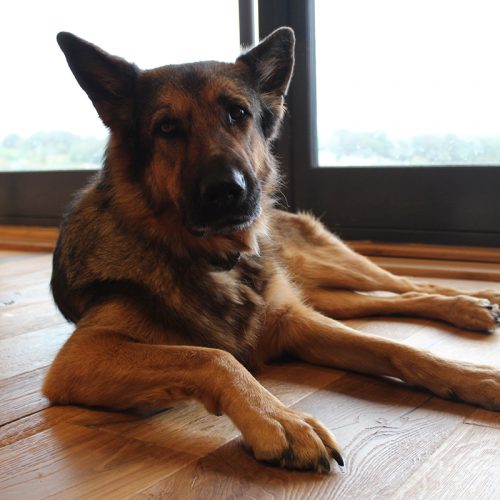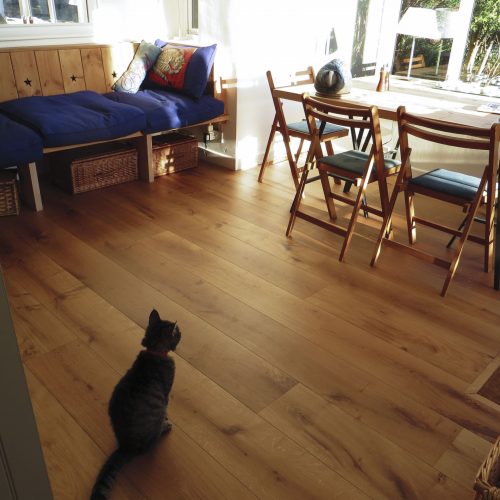 Why Wood Floors Are Better For Allergy Sufferers
A wood floor provides an effective and simple solution to the problem created by allergens.
And what's more, wooden floors are elegant, capable of creating numerous different aesthetic effects, easily maintained, and can increase the value of a property.
Whether you're after rustic chic or timeless class, a wood floor is perfect.
They also retain the warmth of the room, and have a natural, warm, homely vibe.
But aside from being pleasant to look at, wood floors are also amazing for allergy sufferers and those with asthma. The hard surface of the wood is impenetrable from hairs and dirt, making it impossible for dust, pollen, pet dander and mould to become trapped in your floors.
While it's still important to keep your wood floors clean, you can rest easy in the knowledge that a quick, easy clean is more than sufficient to remove all those troublesome allergens.
Laminate Vs. Wood Floors For Allergies
Laminate floors carry similar benefits of wooden flooring when it comes to coping with allergies in that likewise they don't trap particles and are easily cleaned.
That being said, there are definite benefits to investing in a wood floor over a laminate floor. Laminate is a good budget option, and easy to lay, but doesn't have anywhere close to the aesthetic charm and quality feel of a wood floor – either solid or engineered.
Also laminate floors, once damaged, are impossible to replenish or replace specific boards. Whereas engineered wood board lends itself to sanding down and retreating, or even replacing a single floor board, or small section, in the event something goes wrong.
—
So, there you have it. Wood floors provide an aesthetically beautiful option for your home, with the considerable added benefit of being allergy friendly to boot.
So, what are you waiting for?
Take a look at our extensive range of engineered wood floors, or get in touch for advice on the perfect floor for your space, style, and health requirements.