Introduction
The last few years have seen a surge in the popularity of grey wood flooring and for good reason. It's fresh, light, stylish, and offers a completely unique twist on the traditional look of classic wood floors. With a range of shades available, a grey floor offers a modern, clean and minimalist look that's bang on trend for 2019. The pale colour of a grey wood floor is perfect for small rooms where you're looking to create the illusion of more space. It's also the ideal choice for minimalist looks, and spaces you want to be light and airy as possible (as opposed to the warm and cosy feel that can be created with darker shades). A grey wooden floor is the perfect addition to any room in your home, offering so many options where décor is concerned. It allows you to layer other colours in your furniture and accessories – something that can be slightly limited when working with richer, deeper tones of traditional wood flooring. Mix and match different shades of wood flooring and fabrics, or stick to grey and neutral shades throughout, it's entirely up to you. To help you choose the perfect grey wood floor for your home, we've put together an expert's guide to finding and styling the best option for your room, and the look you're hoping to achieve…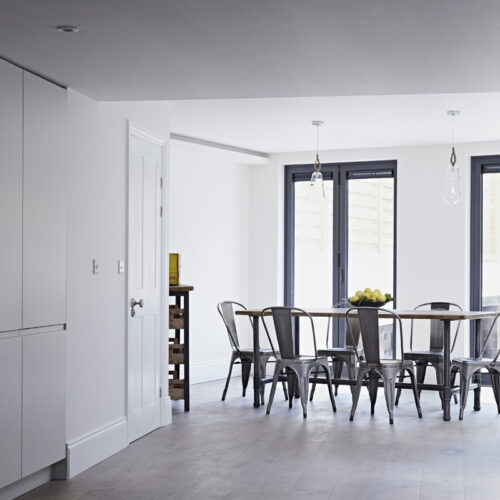 Revamp Your Existing Floor In A Stylish Grey Finish
One great way to get a stylish grey effect modern wood flooring is to simply revamp an existing wooden floor with a new finish. Wooden floors naturally need refinishing throughout the course of their lives, so if you're already at a point where you're looking to do this, it may be the perfect time for a style upgrade. If not, you may consider doing it early if you want to give your room a style makeover but are happy with your existing floor. You will need to carefully remove the existing wood finish on your floor by re-sanding and then refinish with a new grey stain / treatment. If you have an engineered wood floor it can still be re-treated however you must check what wear layer your floor has. The wear layer is the name for the top surface of an engineered oak board and these vary from as little a 1mm up to a much thicker 6mm. Therefore, first you must be familiar with what wear layer your floor had originally and also consider whether or not the floor has been re-sanded in the past. You must be aware that if your flooring originally had a thin wear layer, and especially if it has been re-sanded previously, then you may not be in a position to sand again. If, however, your floor had a thick wear layer it should be able to be sanded back numerous times before you'd need to worry. When it comes to re-finishing the floor we would recommend taking a look at Treatex Hardwax Oil. It comes in a range of colour tones and has proven over the years to be a very durable, stain resistant and long lasting finish for solid and engineered wooden floors.
a new grey floor
Real wood flooring
Solid Oak – Solid oak flooring is a board that is constructed purely of oak from top to bottom. Nowadays engineered oak has become much more popular than solid (more on this in a minute) and therefore you are likely to find that the number of pre-treated grey solid oak board available are extremely limited. However if you had your heart set on a solid oak floor you do always have the option of purchasing the board untreated and treating it on site to the colour / finish of your choice.
Engineered Oak – Engineered oak has become a very popular choice when it comes to real wood flooring. It's top later (wear layer) is real solid oak and therefore will look exactly the same as solid. The advantage it has over solid is it's stability. A high quality engineered oak board will be constructed using a multi-laminate plywood core which makes it far less prone to swelling and shrinking. As this type of oak flooring has become so popular you will find that there is much more choice on the market when it comes to pre-treated products.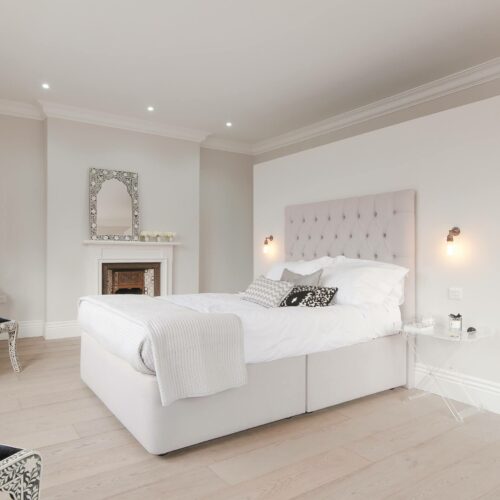 which is best?
Pre-treated vs Untreated
There are a number of factors to consider when choosing between a pre-treated and untreated oak board. Both have their pros and cons of which we have explained in more depth in another one of our articles here: Pre-treated or Untreated Oak Flooring – Which to choose. When it comes to colour the great thing about an untreated board is the fact that you can achieve the exact tone of grey you're after by treating the floor on site with a high quality finish of your choice. It also has the advantage that you can match this colour in with other oak items in your property such as stairs, steps, thresholds etc as you can simply treat them in exactly the same way as you do your floor.
a new grey floor
Luxury Vinyl Tile (LVT)
An LVT Stone or Wood Plastic Composite is an extremely good alternative to a real wood floor. A high quality LVT flooring is extremely durable and practical as well as very affordable. The top surface of the board is a hard wearing vinyl which beautiful emulates that natural characteristics and features of a natural timber floor. This type of flooring is available in a variety of colours, requires no finishing on site and is extremely easy to lay. Take a look at our LVT Wood Plastic Composite Dove Grey or LVT Stone Plastic Composite Quayside Grey as examples.
Whatever look you're hoping to achieve, a grey floor is a great choice that allows you to create a diverse range of styles, perfect for any room or décor. For more expert advice on finding the perfect grey flooring option for your home, get in touch, we're happy to help…