what's covered in this article
introduction
Choosing between pre-treated or untreated wood flooring can be one of the most important decisions you can make when deciding which floorboard is going to work best for you. Initially it may seem like an obvious choice – "choose a pre-treated boards because it saves me work". However both pre-treated and untreated wood flooring have their advantage and disadvantages which should be carefully considered before making the decision as to what will work best for you and your property.
In this article, JFJ Wood Flooring looks at the features, benefits and drawbacks for each type, in order to help you decide which type is most suitable considering both the short and long term.
pre-treated Wood Flooring
Pre-treated boards are a practical flooring solution if you're looking for speed and convenience. This type of finish has had a treatment pre-applied and so reaches you ready for fitting, often without the need for any finishing on site. Being ready-finished, the pre-treated boards are protected from the minute that they are taken out of the box. This does mean that you have to be very carful with the floor during fitting and once it's laid. You must make sure that the floor, once fitted, is covered and protected so that accidental damage does not occur onsite. If you do damage a pre-treated board it often can't easily be put right. Pre-treated boards are available in a range of colours and finishes but please always keep in mind that you will always get a variation from board to board in a natural wooden floor and therefore making a decision solely based on the colour of a small sample is not the safest way of making your decision.
You must also question the type of treatment that has been applied to the board in the first place – it's not all about looks. How hard wearing is this treatment? How do you maintain the flooring when it starts to show signs of damage? How stain and water resistant is the finish? Is the finish suitable for the area you intend to use the flooring in? Hardwood flooring is known for both it's beauty and practicality, but to achieve a practical floor the finish is imperative. Buying a pre-treated floor without considering these factors can lead to you having a floor in your home unsuitable for it's intended purpose.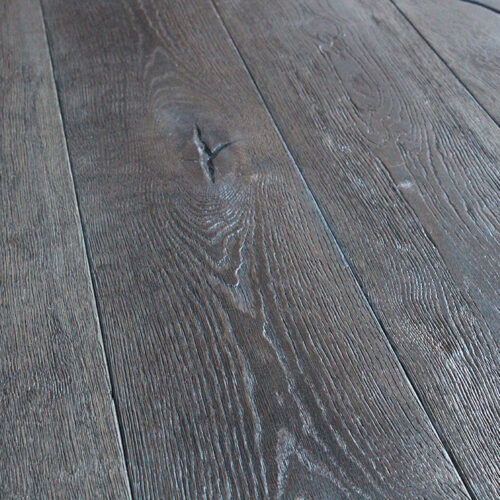 Untreated Engineered Wood Flooring
From our experience, despite the short term practicality of pre-treated boards, there is no factory applied finish that matches the superior all-round levels of quality and protection that can be achieved by applying high quality treatments on-site. By applying oils and colour tones to untreated boards after fitting, you have much more control over the final finish. You can be sure that the end visual result is the perfect colour & sheen level as it's the finish you choose to apply that'll determine these results. This can often make your decision making process simpler as it segregates the choice of floorboard and finish / colour. You can a choose a flooring based on the merits of the board itself (dimensions, grade, quality, price, texture etc) without the colour being the "spanner in the works".
You also have more flexibility in terms of the type of finish you wish to go for, having learnt the pros and cons of the different treatments that are available. You have the opportunity to use a finish of the highest of quality and a finish you know how to look after. Durability, stain / water resistance and ease of cleaning, maintenance & repair can be the difference between a practical wooden floor and a disappointing one. Of course, a high quality solid or engineered wooden floor can be sanded back later, but starting from with the most appropriate finish from day 1 can be a big advantage if you plan on being in the property for many years to come.
Optional Additional Treatments
When you purchase a pre-treated wood floor you often have the option to apply additional coats of treatment either immediately after laying the floor, or later down the line. If you're intention is to treat the flooring straight away after installation we would usually recommend going for an untreated board in the first place. Starting out with an untreated board means that if you do ever need to refinish a specific board(s) you can sand them back to the untreated oak – how they were supplied originally. Thus making it easier to replicate the same finish again and tie them in nicely with the surrounding planks.
It's worth noting that not all finishes are compatible with one another. If you purchase an untreated board and treat on site then there ought to be no uncertainty here (you simply follow the maintenance instructions of the finish you've chosen). However, purchasing a pre-treated board with the thought "I can always add more to it later if I need to" can often be a mistake. Again, it's important to have an understanding on the finish your flooring is coming supplied with and know what options you have if/when needed in years to come.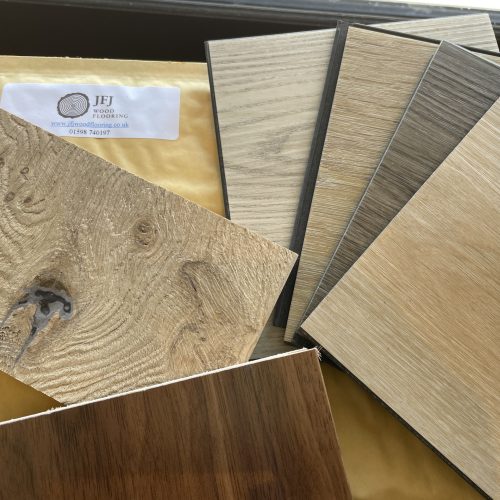 Free Samples and 'Try one Box' from JFJ
So that you can gain a better idea of the appearance of different finishes, we provide free samples of our boards. However we like to remind customers that due to natural variation in colour, tone and grain, the small samples of board cannot 100% accurately represent the overall look of the floor – no two real wood boards are the same!
Whether it's a pre-treated or untreated wood flooring you're considering, we understand that choosing a floor is a huge commitment and it can be difficult to envisage exactly what your flooring will look like from photographs and small samples.  To help to remedy this problem, with many of our products we offer our customers the options to 'Try one box first' – a unique system that allows you to order just the one box of flooring, so that you can be 100% sure that the range you've chosen suits your property for making the commitment of a full order. With this, we offer free postage to the majority of the UK (some postcodes do incur charges) however this box is non-returnable. We also offer free sample pots of Treatex oils for you to try, ensuring that you get the perfect finish for both your tastes and requirements. For more information on any of the above or if you wish to take advantage of these offers contact us today by calling 01598 740197 or email info@jfjwoodflooring.co.uk.
More Information on Board Finishes
Read some more of our helpful articles on choosing the best finishes for your board from avoiding the orange effect to choosing a colour and finish for your wood flooring;