Over the past few years, Scandinavian style has taken centre stage as one of the most desirable aesthetics for the home. From lagom to hygge, the whole world is looking to our northerly neighbours for lifestyle inspiration.
Whether you want to create a cosy, welcoming environment in your home, or you'd prefer to channel chic minimalism, Scandi interior design is a great place to start. But how exactly can you get the Scandinavian Oak Flooring look in your home? Keep reading to find out!
Strip it back to the basics
The first thing you will want to consider doing before you get stuck in with any home improvements is to start with the basics and simply declutter your space. Scandinavian style is based around a minimalistic, balanced approach – to life and interiors – and so ornaments, trinkets and the mess of daily life should be kept at a minimum.
To achieve that pared-back look, consider investing in some good storage solutions to help you organise your belongings so that they're not cluttering up surfaces or floor space. Whether it's a white wooden shelving unit, wire storage baskets or kilner jars, there are plenty of options out there that can give you that rustic Scandinavian look.
Looking for flooring options? – See "Relevant Flooring Options" section at the end of this article.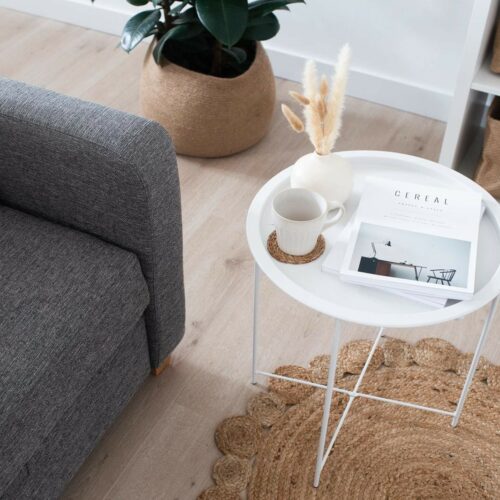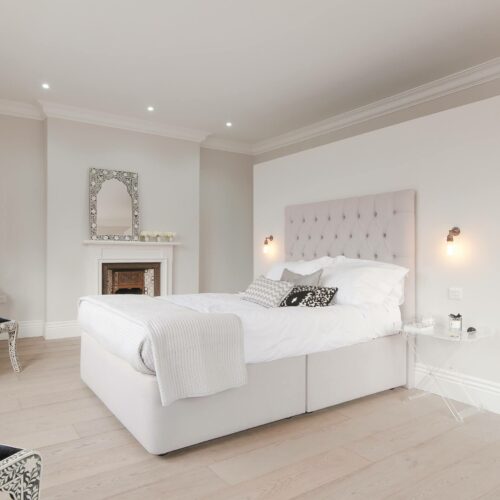 Focus on flooring!
Now that you've created a blank canvas for your interior design, it's time to focus on the one element that will have the biggest impact in your room: the flooring. The flooring in your home is the foundation – literally and figuratively – of your interior design. Choosing the right flooring option will help you to create a cohesive look, drawing together all of the other elements, from furniture to soft furnishings and decoration.
Scandinavian design is all about an understated, natural look, and for this you need wood flooring. Carpet is nowhere to be found in the Scandinavian home; instead, wood flooring is the epitome of style. Only real wood flooring can give you that authentic Scandinavian look that will always remain timeless and minimalist.
However, there are several options to choose from. Firstly, you will need to choose a timber. Oak flooring is the good choice for any Scandinavian-inspired house, because it is one of the most versatile wood types, offers a range of colour and treatment options, and is durable hardwood with character and charming feautures. You can choose from a traditional colour or a more cool-toned colour, and either opt for pre-treated boards or have them treated on-site.
Engineered Oak is also a wise choice. A well made engineered board will incorporate a multi-laminate plywood beneath the real oak top layer. This gives the board more stability and reliability and makes it suitable to laid over underfloor heating if required.
Muted colour palettes
Generally speaking, Scandinavian interiors will feature a muted core colour palette, sometimes with bursts of colour in the finer details such as homewares. However, when it comes to choosing paint colours, furniture and floor colours, muted or cool-toned options are the best choice for that Scandi feel.
The best way to achieve a timeless Scandinavian aesthetic in your home is to opt for light colours on your walls and floor. The white washed lime effect is a particularly popular choice among those looking for Scandinavian-style flooring. In order to achieve this, choose light-coloured engineered oak flooring that is unfinished, and have it treated on site with a white pigment colour base, and a protective top coat(s). More information on the benefits of untreated engineered oak flooring can be found on our website here. By choosing a high quality engineered oak board and finishing on site with a colour of your choice, you can achieve the Scandinavian Oak Flooring look as well as a practical floor suitable for even the higher traffic rooms of the home.
Add natural accents
Another key aspect of Scandinavian interiors is the presence of nature. Natural elements are a huge influence here – but not in the eclectic bohemian or quaint farmhouse sense. Instead, the focus is on bringing the simplicity and balance of nature into the home.
Try to bring some natural textures into your soft furnishings, such as linen sofa cushions or a faux sheepskin rug by the fire. And, of course, introduce plenty of plants to your space – preferably in those silvery green tones and a variety of leaf textures.
These natural influences are particularly important when it comes to choosing the best treatment for your flooring. Scandinavian style tends towards natural, rustic textures, meaning that you would be wise to avoid a lacquered finish in your flooring, as this will often appear shiny and almost plastic like at times. Instead, opt for an untreated wood floor, and when it's fitted, add a matt oil treatment such as Treatex Hardwax Oil. This will give you more of a chic natural-looking finish, whilst providing you with durability and stain resistance combined with practicality and ease of maintenance. After all, Scandi style is also about function, not just fashion!
Cultivate warmth
Although much of Scandinavian style is about light colours, muted colours and minimal layouts, it's important to remember that this is not a prescriptive style. After all, hygge does mean the essence of cosiness, so it's important to create a space that feels comfortable and lived in. For some people, that will mean choosing a warmer-toned wood flooring, such as a natural 'golden' European oak floor or even an engineered American black walnut flooring, which boasts a rich, warm tone. This can still be used to create a wonderfully Scandinavian-style home when paired with white walls, light furnishings and plenty of plant life. For others, the hygge aspect of Scandinavian home life can be captured by installing a log burner, placing a chunky-knit throw over the sofa or even lighting a candle. But, whatever it means to you, just keep in mind the core principle of lagom- "Not too little, not too much. Just right". It's all about achieving balance in the space to make it feel stylish, minimalist yet welcoming.
So, there are just a few tips on how to create that Scandinavian look in your home. If you're dreaming of creating your own hygge haven at home, you need to start from the bottom, and that means choosing the perfect flooring.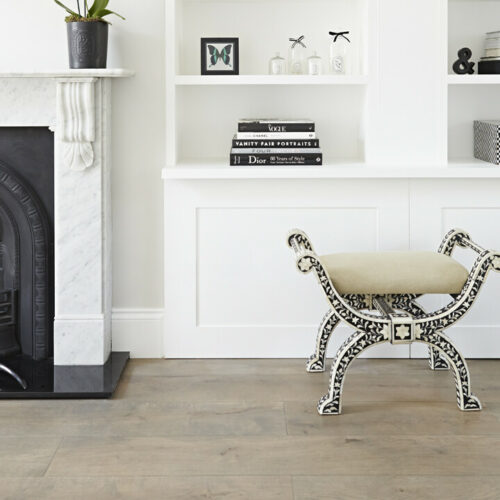 what we reccomend
relevant flooring options
Please see below some popular products to achieve the Scandinavian Oak Flooring look
'Supreme' 220mm x 21mm untreated engineered oak – An untreated Natural grade oak board that can be finished on site with a high quality, stain resistant finish to suit your Scandinavian décor. Long and wide planks which suit the minimalist look.
'Classic' 220mm x 15mm untreated engineered oak – The same spec as the 'Supreme' 220mm above but a thinner choice. This can be preferable to the 'Supreme' if on a budget or a thinner board simply works better for your property.
Modular One – Urban Light Limed – A very realistic durable alternative to wood. An affordable and practical option available in long and wide planks. A pale limed finish which creates a natural look with highlighted white grain.
LVT Stone Plastic Composite – Sandstone Oak – A durable LVT floor. A minimalist paler colour tone which is perfect for the Scandi look. An extremely practical option with the highest levels of durability and water / stain resistance.