wooden flooring for kitchens
introduction
The timeless beauty of a natural wooden floor is popular in both traditional and contemporary properties alike. The warmth wood offers when compared to stone / tile is well known, as this is quality feel it achieves, but is wooden flooring suitable for a kitchen?
Stability, reliability and practicality are all factors that must be considered in a busy kitchen – all of which can be achieved with a high spec engineered wood floor and the appropriate finish. If you're interested in a wooden flooring for your kitchen, hopefully this article will help.
What type of wood flooring is best for a kitchen?
Why is wood flooring a good choice for a kitchen?
Is wooden flooring suitable for a kitchen?
These are questions we get frequently asked here at JFJ and we do our best to answer in this article.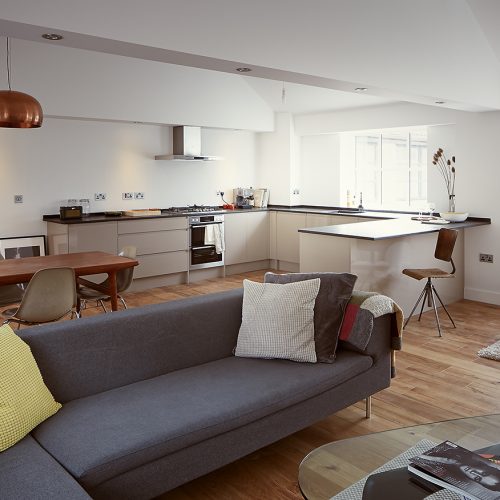 a reliable floor
Stability
Due to the nature of a kitchen it's important that the floor is constructed in such a way that offers the highest levels of stability. With a quality engineered hardwood floor you will find a layer of oak or walnut on the top surface that is stuck to a multi-laminate hardwood plywood. The cross layer construction within the ply give the board far greater levels of strength and stability making it far less prone to movement (expansion and contraction). For more information on this view our "JFJ Engineered Wood Flooring – What are the Advantages" article.
The fact that engineered wood floors are much more stable than the likes of solid wood make them much better choice for kitchens which have a greater chances of raised temperatures, moisture content and accidents.
durability, stain resistance and maintenance
The Finish is key
One of the main worries with wooden flooring in a kitchen is stain resistance, water resistance and ease of cleaning and maintenance. We ought to start by saying that not all wood flooring would be considered perfect for a kitchen. It's the finish that the wood is treated with which will determine these key factors. It's obvious as to why these factors are important in a kitchen, but how do you ensure that your wood flooring meets these requirements?
Firstly, we would recommend you read our article "Oiled, Lacquered or Untreated – What's the Best Finish for Hardwood Flooring" as this talks in more detail about the different finishes that are available and the pros and cons of these choices.
Treatex is a hard wax oil that makes wooden flooring extremely hard wearing, water resistant, and easy to maintain. As well as providing optimum protection for you wooden flooring, Treatex also works to bring out the natural beauty of your wooden flooring by enhancing the wood grain and colour of the timber. Treatex is suitable for use on all types of interior timber, and consists of a mixture of sustainable natural materials including carnauba wax, sunflower oil, linseed oil and beeswax.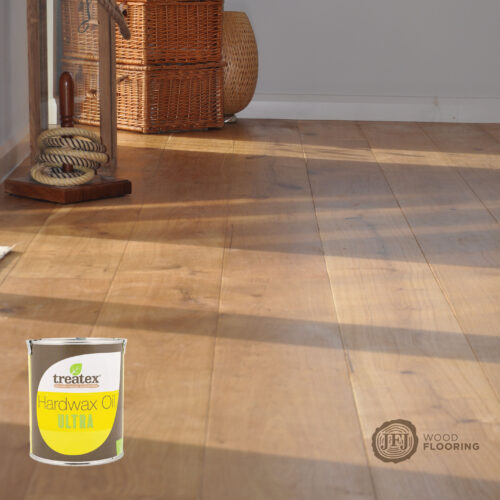 Wood Flooring colour choices
A colour to suit your tastes and design
Another lovely thing about wood flooring, particularly paler timber such as Oak, is that it can be treated with different finishes to achieve a huge variety of colours. All European Oak boards start the same (an untreated piece of Oak) but it's the treatment that has been applied, or that you apply, which will determine the end result in colour.
Given what we've already discussed in this article it's important that your decision is not based on colour alone and more detail on this can be found on our "Colour – Not the only factor to consider" article.
If you're wanting to guarantee quality of finish as well as the exact colour you're after then definitely consider purchasing an untreated oak board which can be finished on site using a product of your choice, such as Treatex. This can be a big advantage, especially when you're planning ahead, because choosing a colour of flooring which will perfectly suit your kitchen interior can be challenging.
sanding & refinishing
Ability to replenish & refinish
Another advantage with a hardwood floor is that should the flooring get damaged, which can of course happen to any flooring, you have ability to replenish the boards. Timber flooring can be sanded back and refinished and if you applied the original finish yourself on site then this easy to do – simply by using the same treatment as you used in the first place. If you purchased a flooring that was pre-treated with a specific colour then sanding a floorboard back is still an option, but matching the colour into the pre-existing boards can be more tricky.
If a plank of your flooring got damaged to the point of no repair then individual planks can be cut out and replaced. This is not a 5 minute job, but it is do-able, and this is more than can be said for alternative flooring options.
Another advantage with having the ability to sand a floor back is the option to change the appearance of your flooring later down the line. Once a wooden floor is sanded back to its raw timber and can be finished to the colour of your choice, as explained in "A colour to suit your tastes and design" above. This can of course be very handy when redecorating as it's much cheaper than a new floor!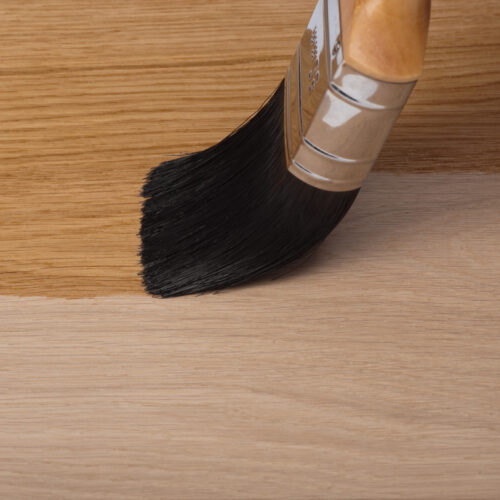 the warmth of wood
Worried About the Cold?
Solid and engineered oak boards are much warmer than the likes of slate or tiles, and have a naturally warming, homely feel to them. Furthermore, engineered wooden flooring stocked by JFJ can be used in conjunction with underfloor heating to add extra warmth during the winter months.
Kitchen may not be on ground floor
If your kitchen is not on the ground floor then you may be restricted as to what you can lay for weight reasons. Hardwood flooring can be laid over a number of subfloors including chipboard, plywood, existing timber boards, joists and biscuit screed therefore can again be the perfect solution for your first floor kitchen.
is wood flooring suitable for a kitchen?
conclusion
Choosing a wooden flooring for a kitchen can be a superb choice providing you carefully consider the type of flooring you purchase, the build quality of board and the finish that's applied to the timber.
We're a long established, family run and customer focused company. Should you be interested in a hardwood floor for your kitchen feel free to get in touch and we would be delighted to help.