A recent customer of ours, Mr Kelsey from Derbyshire, decided to try something a little different with our 'Supreme' 220mm x 21mm Engineered oak flooring. He already had an existing wooden floor which led to an alcove where his television was mounted and being the focal point of his living room, he wanted to bring this alcove to life and create a feature wall. Our 'Supreme' 220 was the perfect solution.
As Mr Kelsey was planning on having valuable items attached to the boarding, it was essential that he had a product that he could rely on. Being a 21mm thick board based upon a multi-laminate hardwood ply, this board has the strength and stability that enabled Mr Kelsey to design a unique mounting area to affix his television and shelving. This board also comes un-treated, this also allowed Mr Kelsey to finish the oak to complement the theme and colour of the room, as well as his personal tastes. The end result is a stunning feature wall that is completely unique and full of character, finishing off the room perfectly.
Since completing this project, Mr and Mrs Kelsey have returned to us to purchase more flooring as they were delighted with the product. Although this time, they have remained traditional and used the boards on the floor in another room!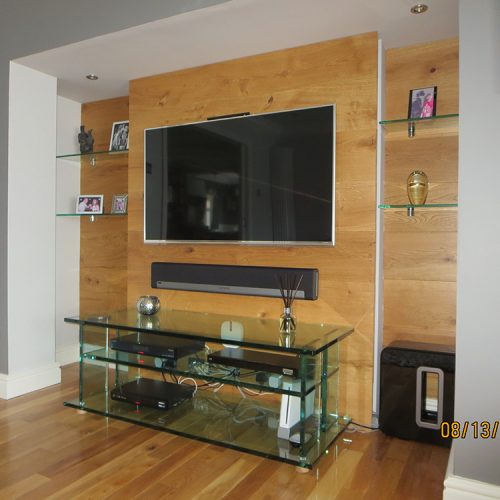 This isn't the first time our flooring has been used for something other than floors, one of our customers has used our boards to clad the inside of his porch both on the walls and ceiling, our boards have also been used to create radiator covers as well. The accurate machining, strength and stability of the boards make it an extremely versatile product that has proven itself time and time again.
We are always happy to offer any advice to our customers, so if you have a project or an idea you would like to discuss whether it's to use our boards as flooring or something different, we would love to hear from you. Feel free to contact us on 01598 740197 or email us at info@jfjwoodflooring.co.uk.
More Feedback from our Customers in the Midlands: